Suyo Modern Peruvian Restaurant wins Best New Restaurant and Best Latin American at the 2023 Vancouver Magazine Restaurant Awards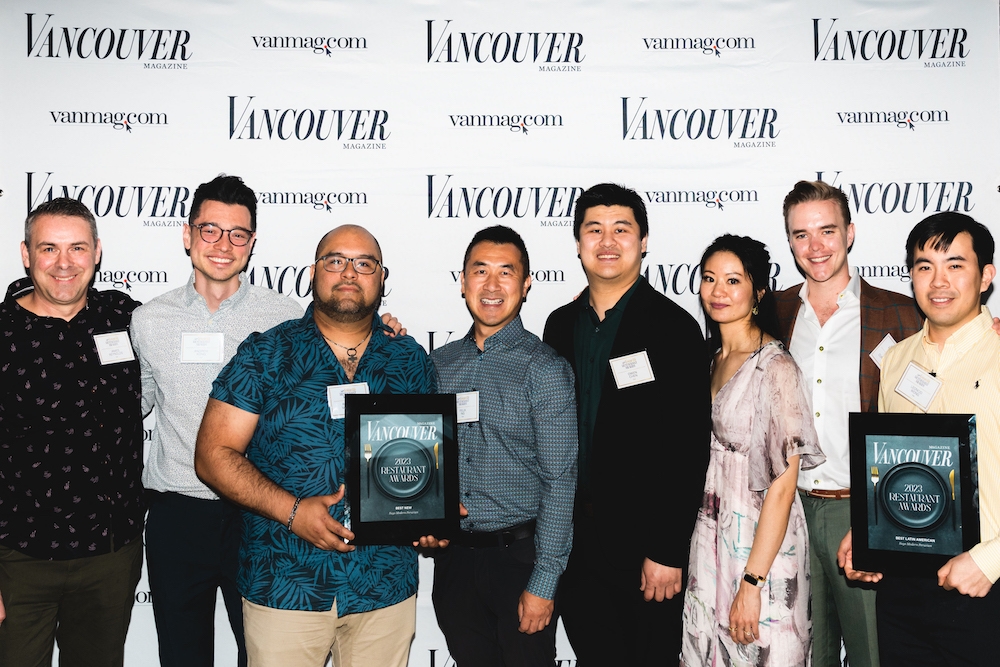 It's been a showstopping debut year for Suyo Modern Peruvian Restaurant & Bar, which just earned two highly-coveted top honours at the 2023 Vancouver Magazine Restaurant Awards: Best New Restaurant and Best Latin American.
Opened in August 2022 by a powerhouse team of hospitality veterans — Chef/Partner Ricardo Valverde (Blue Water Cafe, CinCin, Ancora), General Manager James Reynolds (La Buca, Blue Water Cafe, La Regalade), award-winning Bar Manager Max Curzon-Price (Botanist, Clarendon Cocktail Cellar UK), and tech entrepreneur Felix Ng as Director of Operations — Suyo has swiftly secured itself a spot amidst its community peers, becoming one of the city's most sought-after dining and drinks destinations, whether for share plates and cocktails or the chef's tasting menu with wine pairings.
"There's a new kid in town that's taking the Latin American scene by storm," said Vancouver Magazine in their annual awards issue. "The modern Peruvian restaurant, masterminded by Lima-born chef Ricardo Valverde, is 'something Vancouver needed, but didn't know how to ask for'."
From the dining room to the bar, Suyo showcases the global influences found in Peruvian food and drink presented through a contemporary lens. Valverde's menu reflects the thrilling range of flavours of Chinese-Peurvian, or Chifa; Japanese-Peruvian, also known as Nikkei; as well as Italian and Spanish cuisines, while paying homage to the traditional dishes of the ancient Inca. Curzon-Price's creative cocktail list draws from the landscape and ingredients of Peru, resulting in conversation-sparking libations that pair beautifully with Suyo's food.
At Suyo, the culinary and bar team emphasizes waste reduction by upcycling ingredients whenever possible. They creatively use them as ingredients in syrup infusions, garnishes, and more, to show respect for the ingredients used in their creations.
In a heartfelt acceptance speech on stage before a standing-room-only-crowd of hospitality industry greats, Valverde referenced his arrival to Canada as a teenager and his father's desire to build patria, the spanish word for homeland, a sentiment mirrored in the Inca word Suyo. Valverde then went on to recognize each individual team member on stage, as a testament to the collective efforts in building their dream restaurant concept.
The Vancouver Magazine Restaurant Awards are judged by a panel of 15 leading culinary experts and critics and were handed out at a formal award ceremony at the Italian Cultural Centre on May 15, 2023. A full list of winners from the 2023 annual awards is available at www.vanmag.com.