Four Seafood Recipes to Celebrate Chinese New Year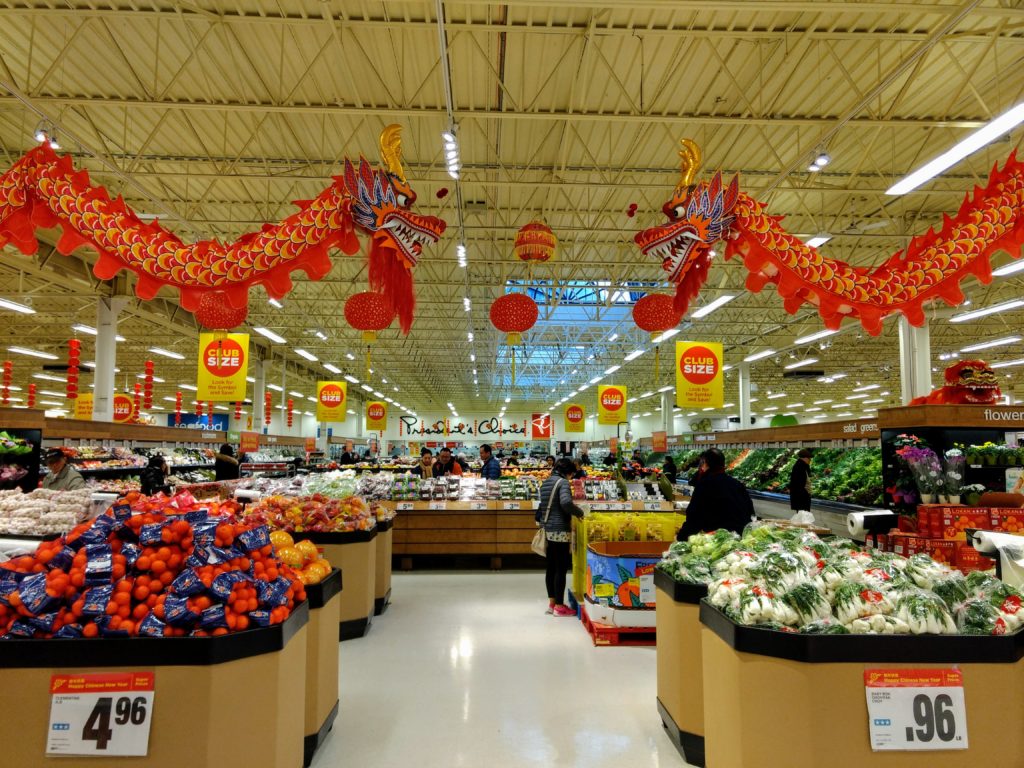 Chinese New Year starts on Friday, February 16, 2018 celebrating the Year of the Dog. If you are born in a Dog year, you are loyal, honest, generous and responsible. You are also very driven and committed to your craft.
Every year, I get ready to celebrate Lunar New Year by visiting my go-to shop Real Canadian Superstore. Real Canadian Superstore offers a huge selection of authentic Asian ingredients, fresh produce, meat and seafood, decor and cookware all at a great value. It has everything my family needs to celebrate the New Year and I don't need to travel to multiple stores.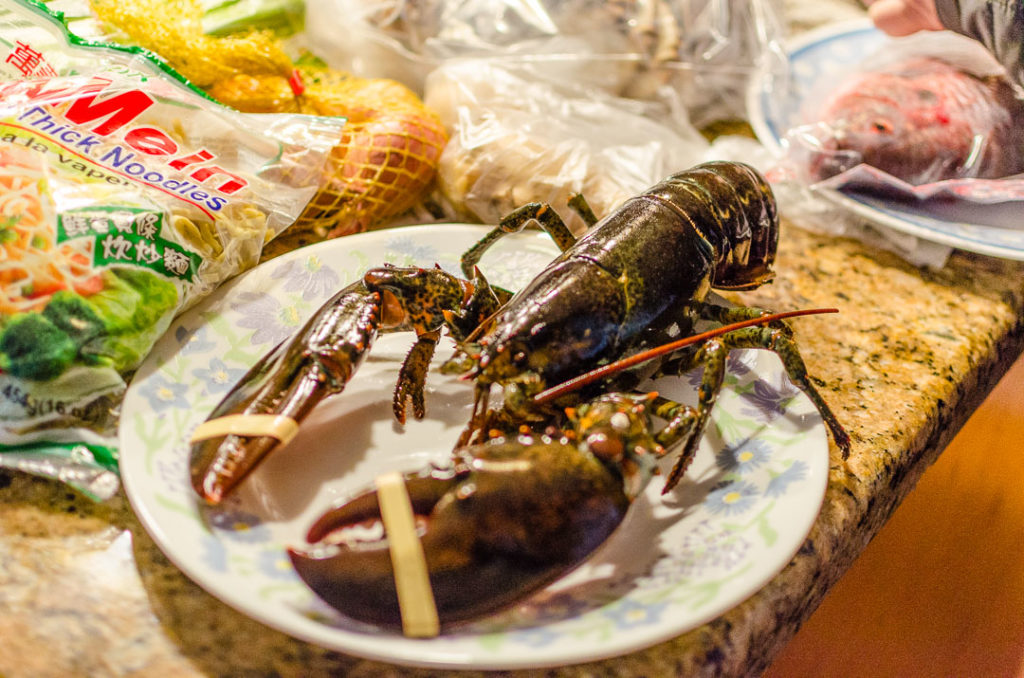 This year, I prepared a seafood feast of lobster, crabs, prawns and fish. For a family of five, the total cost was $100. All of the ingredients were brought at Real Canadian Superstore. Just goes to show that cooking your favourite Chinese dishes doesn't need to come at a high cost.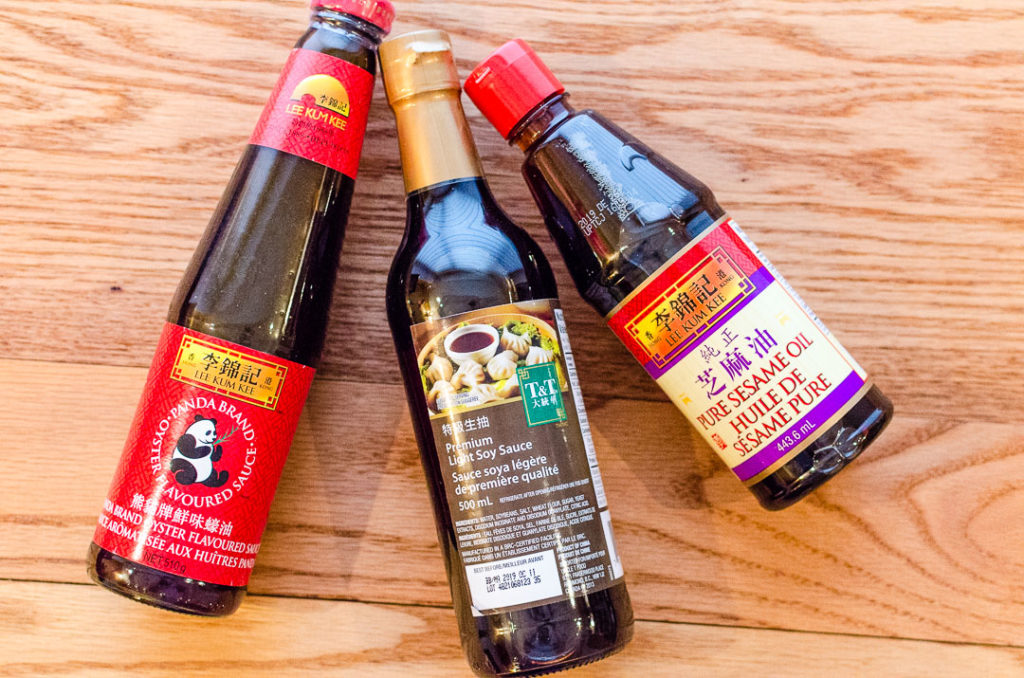 I love that I can find authentic brands like T&T, Rooster, Lee Kum Kee and more, when I visit Real Canadian Superstore. Some of my favourites are T&T soy sauce and Rooster jasmine rice. My family loves the fragrant jasmine rice with curry or stew.
Here are some of my favourite family seafood recipes I cooked up this year to bring luck, wealth and longevity:
Lobster with E-Fu Noodles
Ingredients
1 lobster
1 pack E-Fu noodles
1 1/2 cup water
1 tablespoon corn starch
chopped scallions
chopped ginger
3 tablespoons cooking oil
Sauce
2 tablespoons oyster sauce
1 tablespoon T&T soy sauce
1/8 teaspoon white pepper powder
1 1/2 teaspoons sugar
1/2 teaspoon sesame oil
1 tablespoon Shaoxing wine
Direction
1. Clean the lobster and chop into pieces and pat dry with paper towels.
2. Heat up a pot of boiling water and boil the E-Fu noodles according to the packing instructions. Drain and set aside.
3. In a wok, heat up 3 tablespoons of cooking oil. Stir-fry the ginger and drop in the lobster. Stir continuously until the lobster turn red, then add in the sauce, follow by the water. Continue to stir, then cover the wok until the lobster cooked.
4. Remove the lid and add the chopped scallions into the lobster. Add salt to taste. Transfer the lobster out and pour onto the bed of E-Fu.
Crab with Ginger and Scallions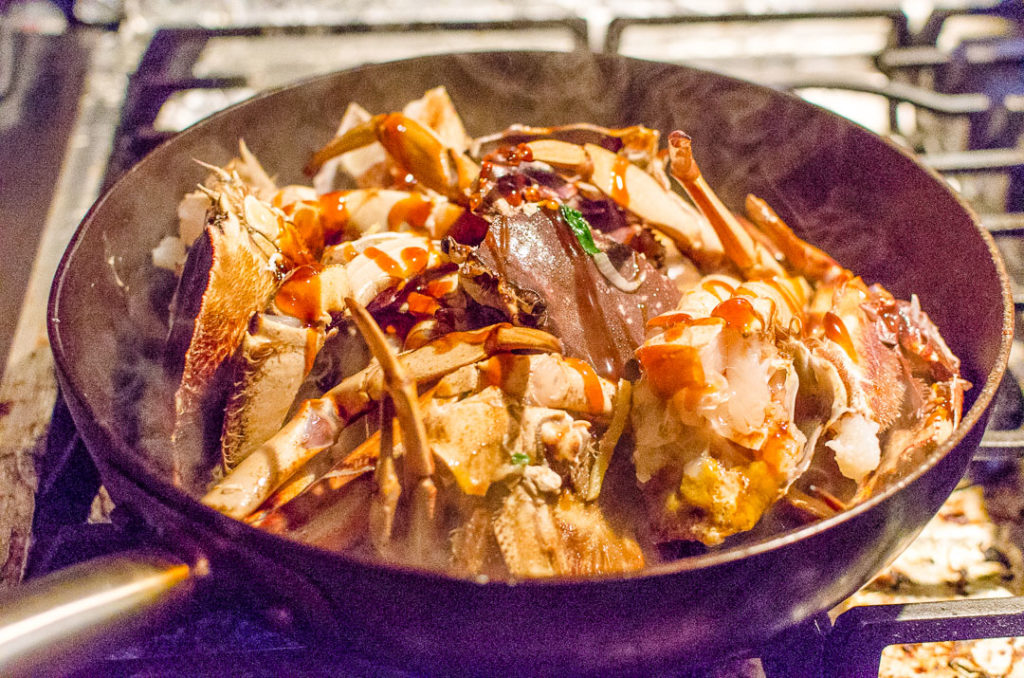 Ingredients
2 crabs
6 tablespoons cooking oil
3 tablespoons Shaoxing wine
2 teaspoons T&T soy sauce
chopped ginger
chopped scallions
white pepper powder to taste
Direction
1. Heat the wok with 4 tablespoons of oil and place crab claws and shells around the outside portion of the wok.
2. Add 2 tablespoons of oil and ginger until they are caramelize and then add scallion and Shaoxing wine.
3. Keep the heat on high and let the crab cook for 2-3 minutes.
4. Spread the rest of the scallions over the crab. Add white pepper powder and soy sauce.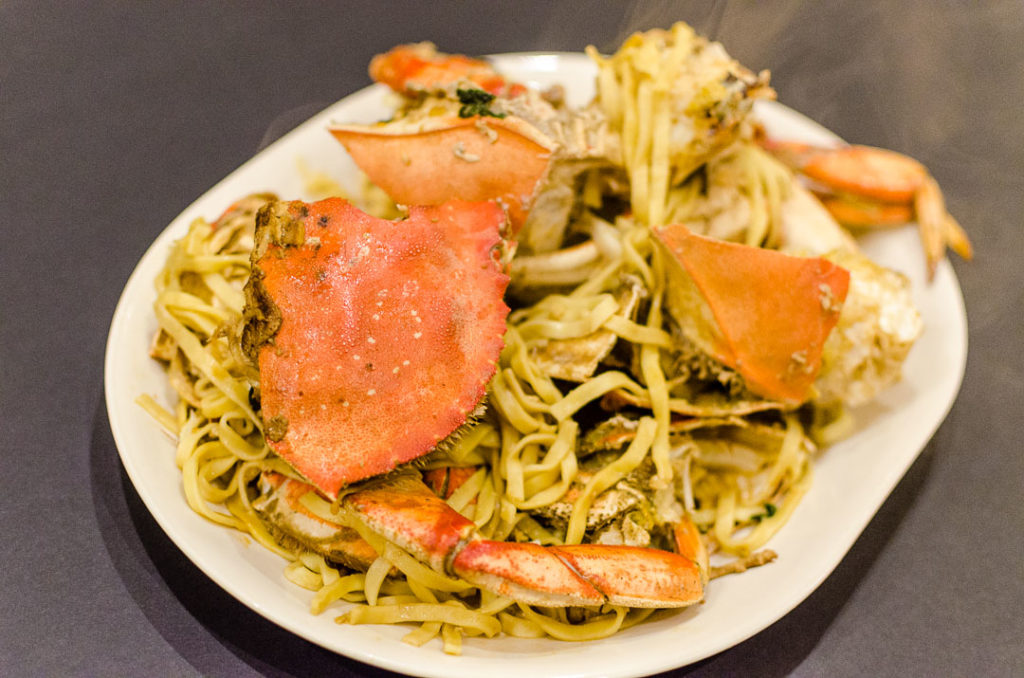 Prawn with Chilli and Garlic
Ingredients
1 pack of prawns
1 tablespoon cooking oil
1 teaspoon sesame oil
2 teaspoons chilli flakes
1/2 cup water
2 tablespoons Sriracha
1 1/2 teaspoons T&T soy sauce
2 tablespoons brown sugar
chopped garlic
chopped shallots
Direction
1. Cook prawns for 2 minutes until light golden. Transfer prawns onto plate.
2. Remove wok from stove to cool down slightly, and decrease stove to medium.
3. Add sesame oil, garlic, ginger and chilli flakes. Cook until garlic starting to turn golden.
4. Add water and remaining ingredients. Stir, increase heat to medium high, and let it simmer for 3 minutes or until the sauce starts to thicken.
5. Return prawns into wok and toss to coat in sauce. Cook until the sauce thickens more.
6. Garnish with sesame seeds, fresh chilli and shallots.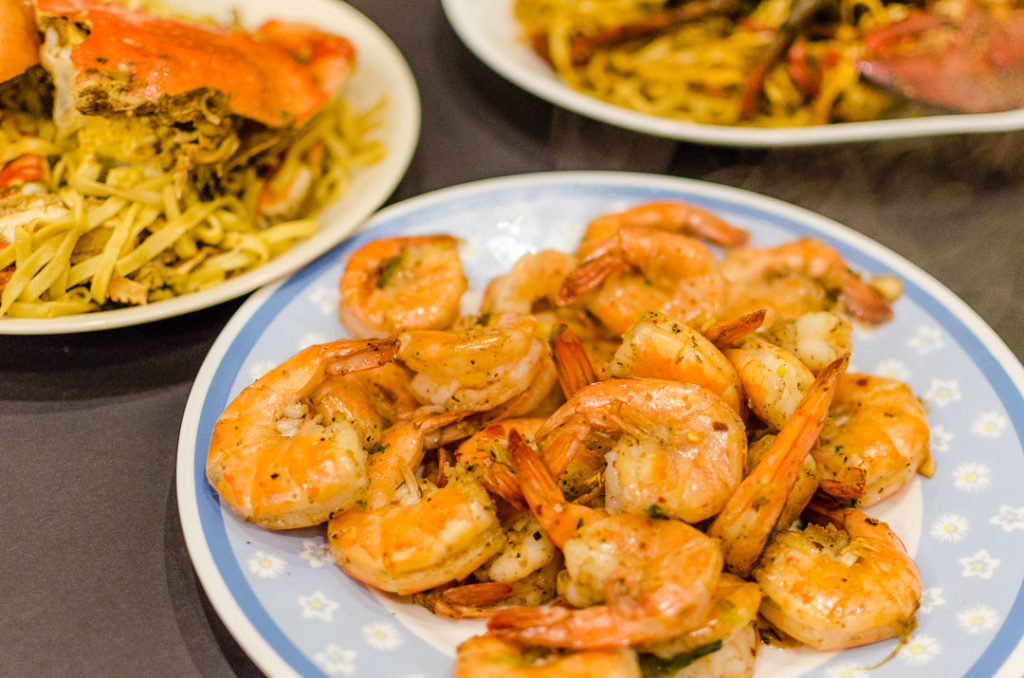 Cantonese Steamed Fish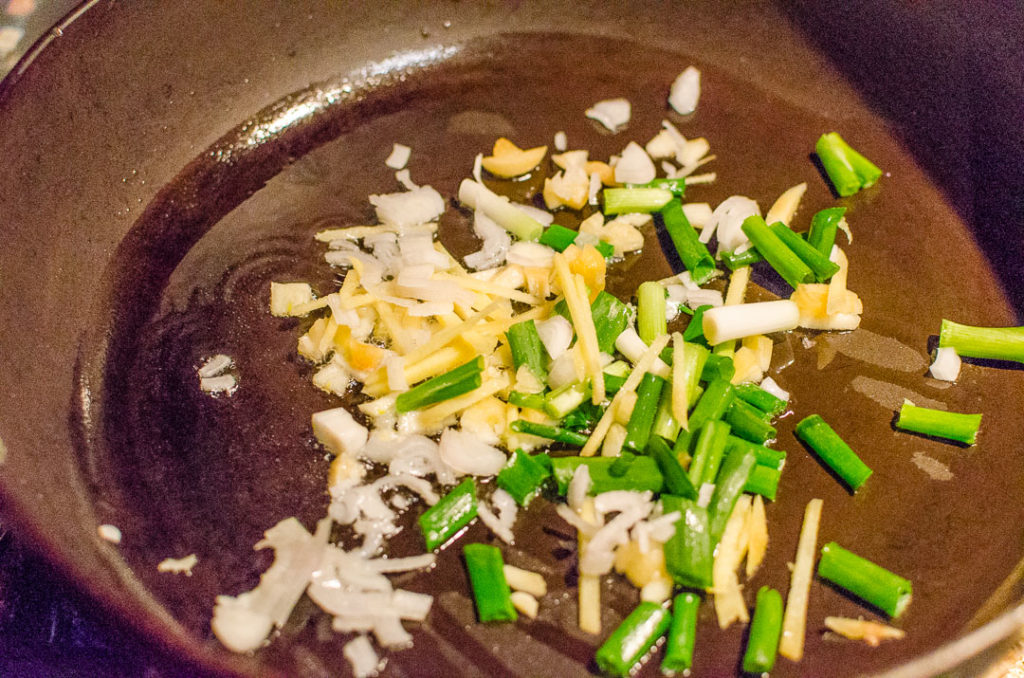 Ingredients
1 whole tilapia
1/4 cup T&T soy sauce
1 tablespoon Shaoxing wine
1/2 cup canola oil
chopped ginger
chopped cilantro
chopped scallion
Directions
1. Rinse the fish in cold water and pat dry with paper towels. Season the fish inside and out with salt and pepper.
2. Pour water into the pot. Make sure the water does not touch the bottom of the steamer. Bring the water to a boil over high heat.
3. Place the plate in the steamer, cover, and steam the fish for about 8 minutes.
4. In a small bowl, stir together the soy sauce, wine, and 1 tablespoon of water. Set aside.
5. When the fish is ready, carefully remove the plate from the steamer. Pour soy sauce mixture and lay the scallion and cilantro along the top of the fish.