A Wish Come True: Once Upon a Time Afternoon Tea Launches at H Tasting Lounge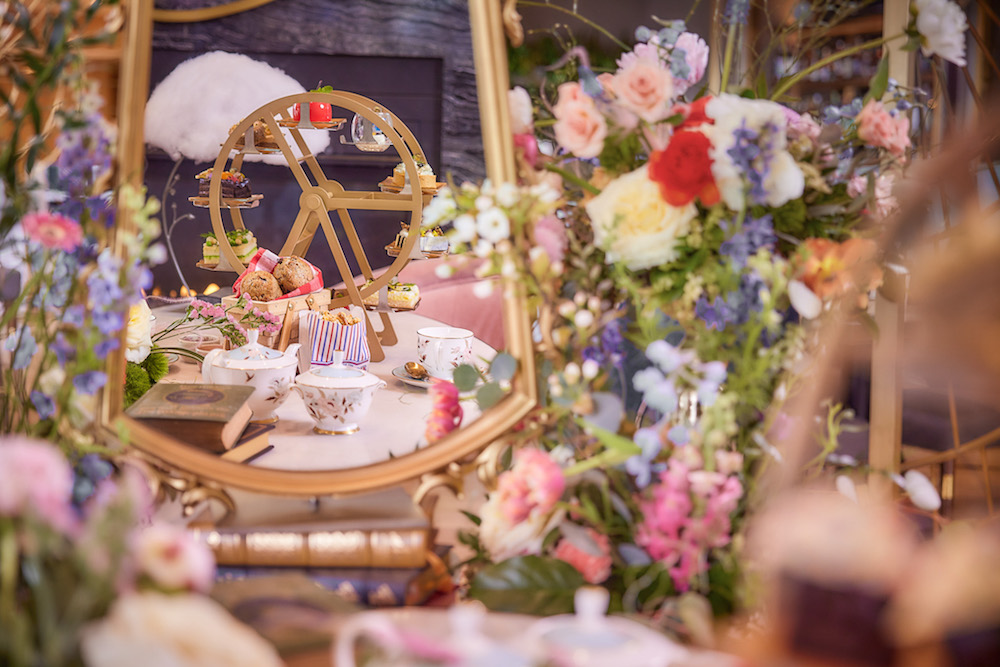 Beginning Saturday, May 20, H Tasting Lounge gives an enchanting twist to a time-honoured tradition with the debut of its Once Upon a Time Afternoon Tea. The dazzling sweet and savoury lineup will send imaginations soaring to 'Neverland', forbidden forests, and to faraway mystical lands.
Each table will be presented with an elegant golden ferris wheel decked out with treats imagined by Pastry Chef, Martha Ebro. This deluxe 10-dish gourmet experience includes:
Pixie Dust: Cotton candy, medley of freeze-dried berries, edible gold
Red's Gift Basket: Hibiscus lemon ginger tea & dried cranberry scones, housemade clotted cream & forest berry jam
Snow White's Temptation: White chocolate bavaroise, apple compote, red glaze, gold flakes
Hansel & Gretel's Obsession: Moist chocolate fudge cake, apricot & raspberry confit, chocolate glaze, pop rocks, chocolate bark
孙悟空 (The Monkey King): Black sesame almond sponge, mandarin cream, sesame croquant, lychee chantilly
The Snow Queen's Palace: Ice wine panna cotta, blackberries, sugar glass
Humpty's Fall: Salish sea salt & Bayshore honey-cured yolk, house-preserved lemon & chive crème fraîche, brioche
Your Highness: Chickpea spread, tendril sprouts, English pea, malt-dusted shimeji mushroom
A Big Bad Wolf's Afternoon Tea: Jambon blanc & island brie pinwheel, sweet & spicy red pepper jelly, textured pork cracklings
Under the Salish Sea: Poached west coast spot prawns, savoury tartlet, calamansi aioli, baby dill, rainbow kelp tuile
Turn up the opulence with one of five curated Champagnes by Piper Heidsieck, Charles Heidsieck, and Dom Ruinart. Or, keep it traditional with a robust selection of loose leaf teas by o5 Rare Teas and Tealeaves.
More than a dream come true for story time enthusiasts, this fantastical spread gives hope to children in need. From May through October 2023, partial proceeds from each Once Upon a Time Afternoon Tea purchased will be donated to Make-a-Wish Foundation to support Wish Upon a Dish 2023, a nationwide initiative raising funds to grant the wishes of children battling critical illnesses.
This whimsical weekend affair launches on May 20 and is available on Saturdays and Sundays at H Tasting Lounge from 11:30am to 1:30pm. Once Upon a Time Afternoon Tea is $72 per person (with a minimum two-guest requirement) plus taxes and gratuity. Reserve your tea-time experience on Tock.