Vancouver to Ucluelet in the brand new 2018 Hyundai Kona SUV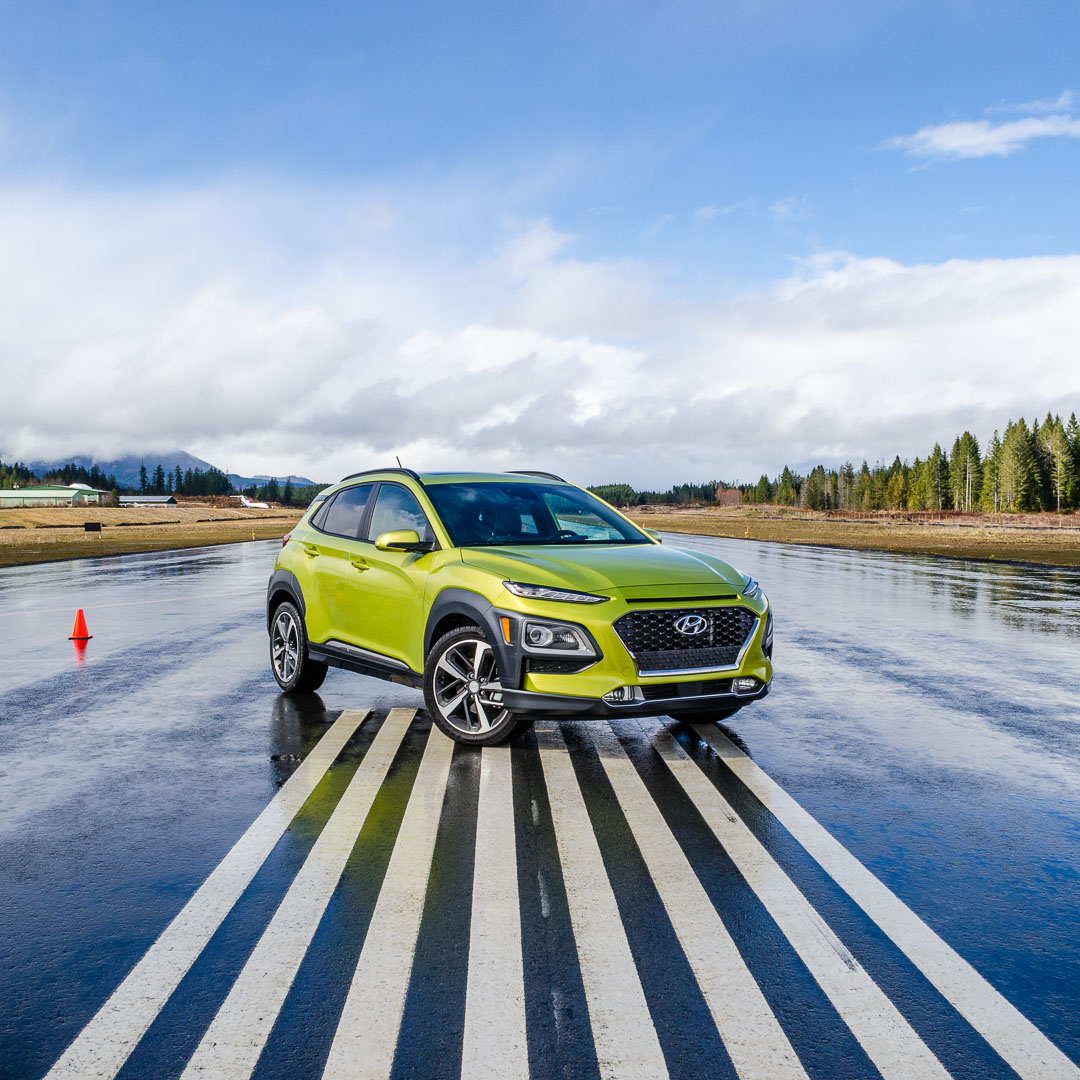 Named after a seaside town in Hawaii's Big Island, the Kona is a new addition to the Hyundai SUV lineup which includes the Tucson, Santa Fe XL and Santa Fe Sport. The 2018 Hyundai Kona is a subcompact crossover designed for urban professionals and young couples with an active lifestyle. The Kona is a powerful and versatile SUV built for city life and recreation.
The 2018 Kona feature Hyundai's next generation SUV design direction with a bold and muscular styling, cascading grille and futuristic LED lighting. The high-tech look is a balance with a fun and wild colour option like Acid Yellow, Blue Lagoon, Tangerine Comet and Pulse Red. The roof is finished with a two-tone colour scheme and providing high contrast between the body and wheels.
During the First Drive event, we drove the Kona in the urban streets of Vancouver to twisty road of the Pacific Rim highway. Within 24 hours, we experience sun, rain, hail and snow in Vancouver Island. It was a good oppournity to test out the Hyundai Kona driving dynamic and all-wheel-drive system in all types of weather condition.
In a caravan of bright and colourful Hyundai Konas, we started on West Coast adventure in North Vancouver and took the ferry to Nanaimo. On the first leg of the trip, we drove the 2018 Hyundai Kona 1.6T Trend from Vancouver to Port Alberni.
The Trend package includes head up display, rain sensing wipers, 18-inch alloy wheels, LED taillights, front solar control glass, rear privacy glass and Sirius XM.
The Kona 1.6T Trend is powered by a 1.6L Turbo-GDI 4-cylinder engine producing 175 horsepower and 195 lb. ft. of torque paired with a 7-speed EcoShift dual clutch transmission.
On the city street, the Kona was smooth and nimble. With a small footprint, it was very easy to maneuver around the busy city centre.
On the highway, the compact crossover was swift and responsive with lots of power from the turbo.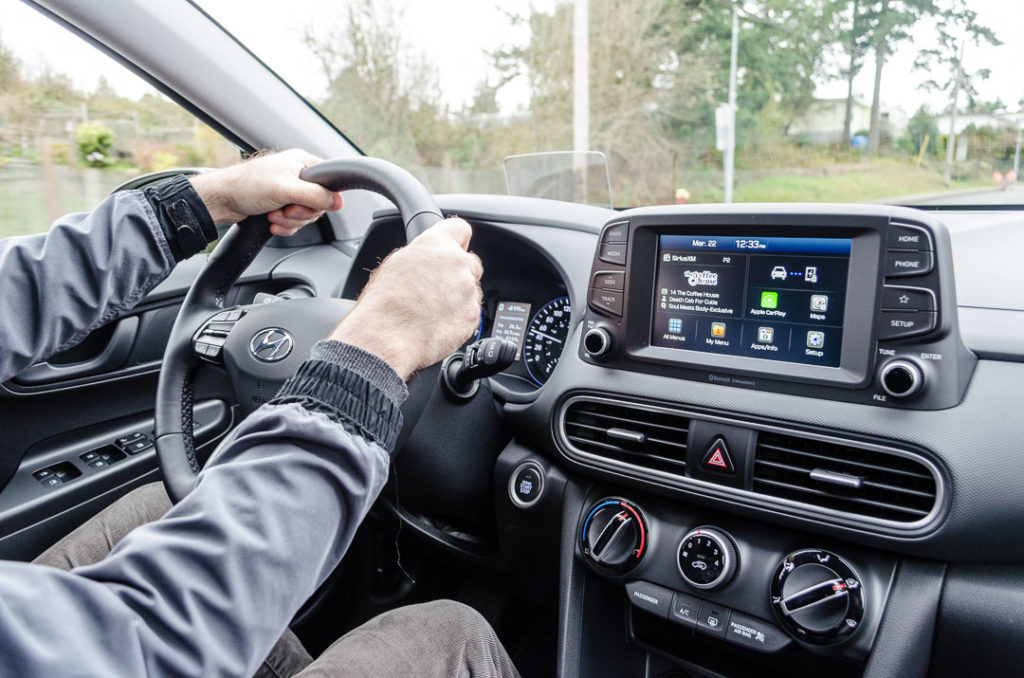 The Kona's cabin is quite spacious with plenty of head and leg room for 5 passengers. The comfortable interior features proximity key with push-button ignition, 8 speaker Infinity audio system, heated front seats with steering wheel, climate control and 60/40 split-fold rear seats to accommodate your camping and sport gear.
One of the coolest feature is the Heads-Up Display (HUD), which projects a virtual image onto the clear glass panel mounted behind the instrument panel to enable you to keep your eyes on the road. The HUD projects the vehicle's speed, navigation instructions, Lane Departure Warning messages, and audio information.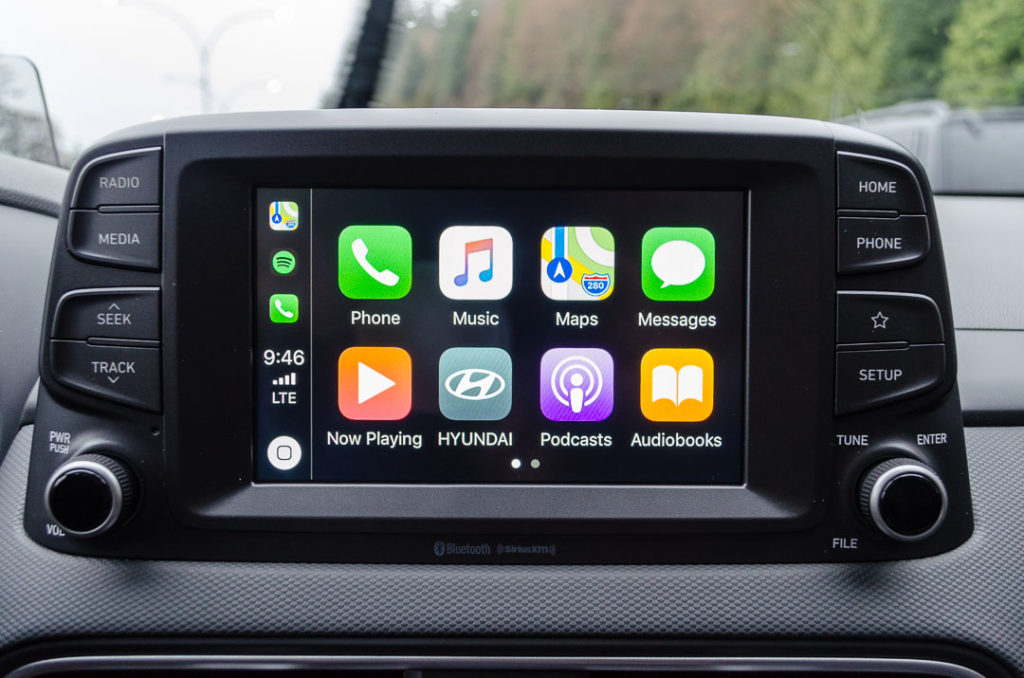 Located on the centre console, the Kona 7-inch touch-screen infotainment system is compatible with Android Auto and Apple CarPlay so you have access to your favourite apps from the dashboard.
With Apple CarPlay, you ask Siri to play your Spotify playlists, read messages, make calls, and get directions with Apple Maps.
With Android Auto, you can use "OK Google" voice commands to listen to your Google Play Music playlists, send and receive messages, and get real-time GPS navigation and traffic alerts with Google Maps.
In addition, the Kona has a built-in wireless charging, a first for the segment. You simply place a compatible Qi-enable Apple or Android smartphone on the charging interface to charge without the need for cables. The system also indicates when the phone has fully charged, reminds you to remove your phone when exiting the vehicle, and detects when a foreign object is in the recharging area that could interfere with charging.
At Port Albertini airport, we were greeted with an empty runway. Of course, we had to do our diligence and test which is the fastest subcompact SUV on the market.
It was super fun drag racing the Kona vs the competitions which are Toyota C-HR, Mazda CX-3 and Honda HR-V.
After a few runs down the air strip, the Kona 1.6T was the clear winner. It can sprint from 0 – 100 km/h in under 8 seconds.
On the second leg of the trip, we switched to the 2018 Hyundai Kona 2.0L Luxury AWD. As the luxury trim, it comes equipped with automatic climate control, power-adjustable driver's seat with power lumbar support, power sunroof, leather seats and Sirius XM.
It also comes standard with Hyundai's SmartSense active safety like Autonomous Emergency Braking with Pedestrian Detection, Lane Departure Warning with Lane Keep Assist, Blind Spot Detection with Read Cross-Traffic Alert, Driver Attention Assist, Rear Parking Assist Sensor with Rearview Camera and Rear Cross-Traffic Alert.
The Hyundai Kona 2.0L Luxury is powered by a 2.0L MPI Atkinson 4-cylinder engine producing 147 horsepower and 132 lb. ft. of torque. It's paired with a 6-speed automatic transmission with SHIFTRONIC manual mode.
The Kona has 3 driving modes (Sports, Normal and Eco), each mode optimize the torque distribution and gear-shift settings to suit your driving style.
After lunch, we were on our way to Ucluelet and drove along Pacific Rim Highway (Highway 4) with twisty road and scenic mountain view. It was the perfect country road to switch on Sport mode, which emphasis on acceleration with early downshift on braking. The Kona was super fun to drive – zipping around the corner and plenty of power for the hilly terrain.
Wally Creek is one of the most interesting viewpoint along the Pacific Rim Highway. At the pull over, you can check out the breathtaking boulder formation that the creek has sculpted over the years. It is also a popular swimming spot.
After 5 hours of driving, we arrived in Ucluelet, located beside Long Beach in the Pacific Rim National Park Reserve. It's a top destination for surfing, hiking, kayaking, fishing, diving, camping, whale watching, beachcombing and storm watching.
Storm watching is a popular pastime in Vancouver Island. The best time for storm watching is November through March. You can experience gale force winds at over 70 km an hour and ten foot high waves crashing the rocks. There are 10 to 15 storms each month.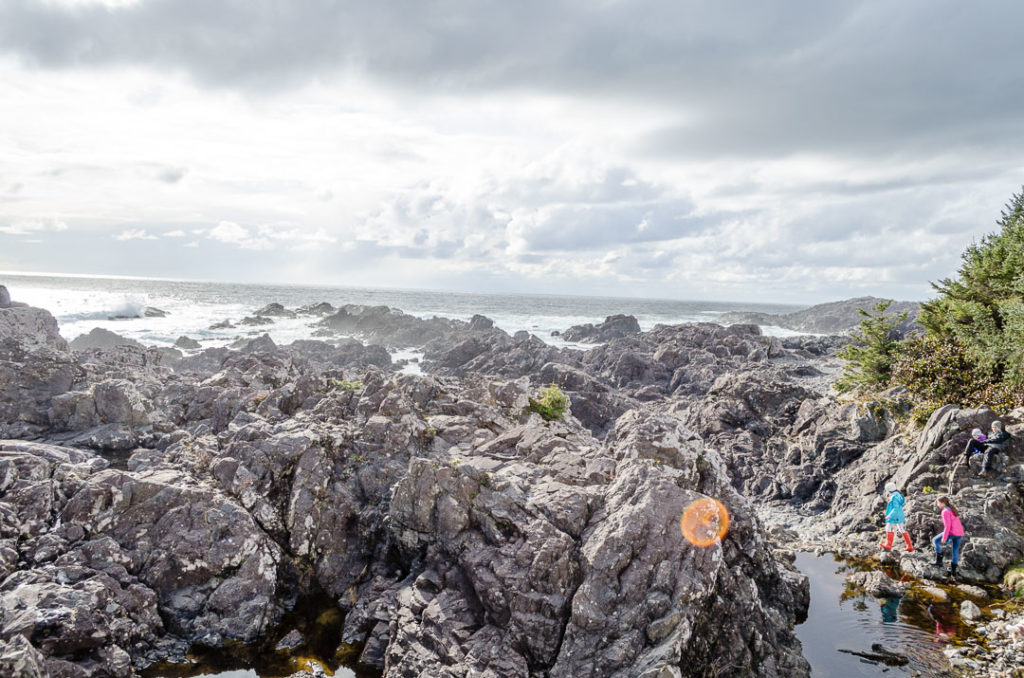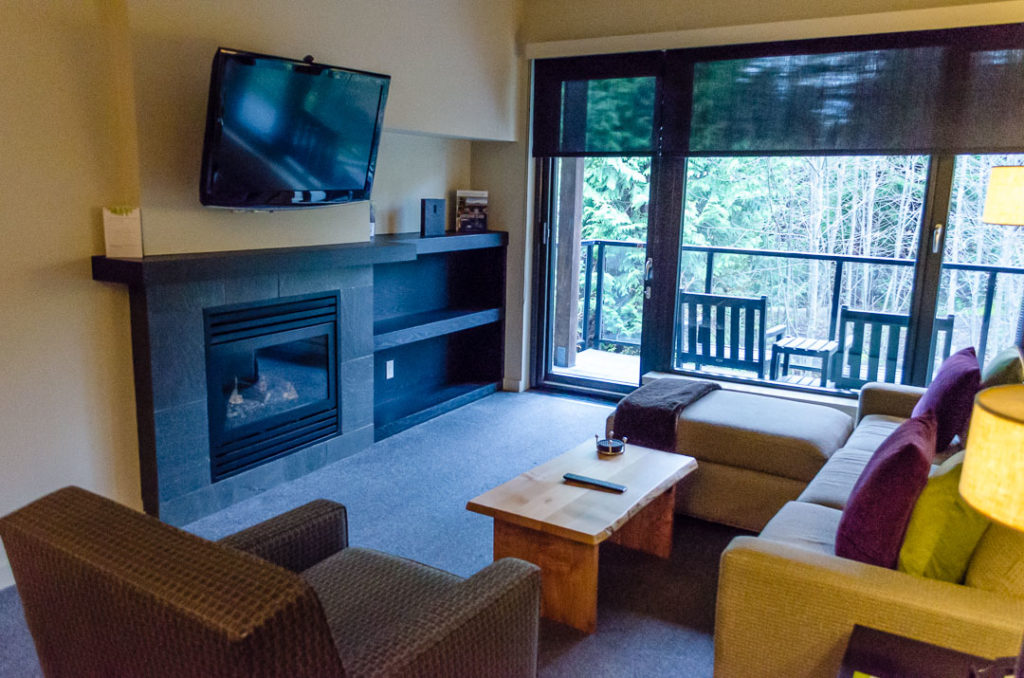 Overnight we stayed at the Black Rock Oceanfront Resort in Ucluelet. The luxurious resort is situated on the rugged rocky coastline facing the Pacific Ocean. All around the resort you have a spectacular view of the ocean and surrounding old growth rainforest.
The full service resort feature 71 Lodge suites and 62 Wild Pacific Trail suites. Each suite has a furnished balcony, fireplace, kitchen facilities, flat screen television, soaker tub & views of the surrounding rain forest & coastline.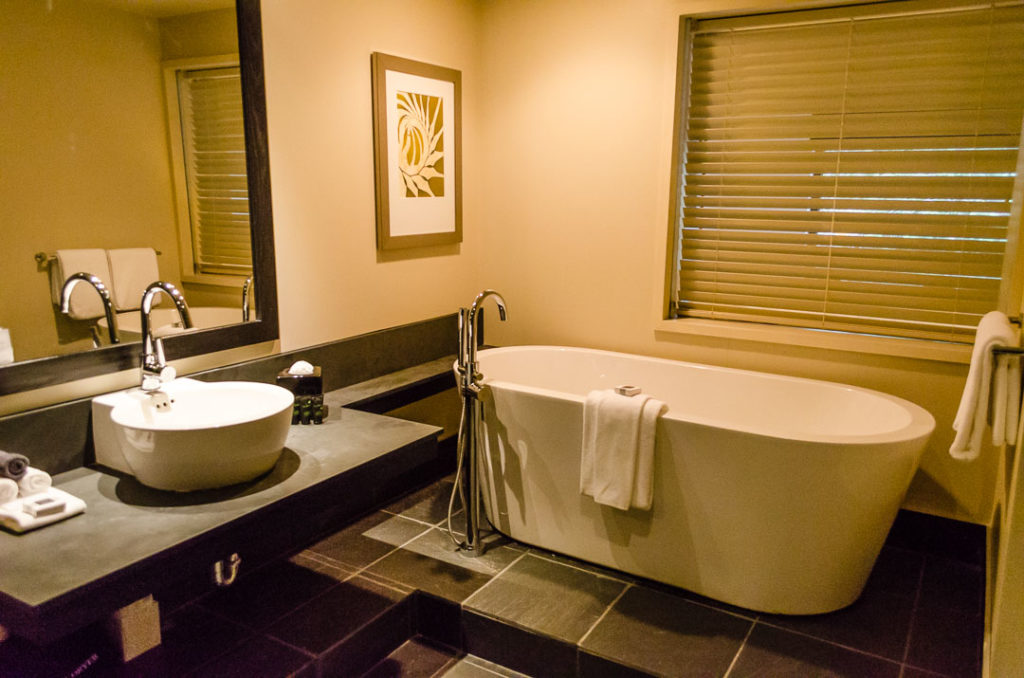 The One Bedroom Lodge Suite features master bedroom with a king size bed, separate living room with a double pullout couch, kitchenette with marble counter tops, bathroom with soaker tubs & rain shower heads and a furnished balcony.
The suite is very spacious with a comfy king bed and all of the modern amenities.
Overall, the 2018 Hyundai Kona is a fun to drive crossover with style and performance. The Kona hits the perfect balance of affordability and utility. It has a spacious interior, sporty driving dynamic, available all-wheel drive that suit the needs of an adventurous lifestyle.