Where To Travel Off The Beaten Track This Festive Season
The festive season is one of the best times of the year to get away on a fantastic vacation to celebrate the holidays. Long-awaited celebrations like Christmas, Hanukkah and New Year's Eve all finally arrive, making the end of the year a key time for friends and families to get together to share food and make memories. For almost three-quarters (73%) of Canadian travellers whose motivation to travel is to boost their mood, getting away in the holiday season during a time of celebration will definitely help in making spirits bright. To make this the best holiday season yet, Booking.com has delved into its more than 28 million listings across more than 159,000 destinations worldwide to select seven of the world's most festive stays that go above and beyond with stunning decorations, delicious food and fun activities. From winter wonderland-themed hotels in Scotland and Zurich to beachside buffet feasts in Florida and Barbados, there's an accommodation for everyone to have an unforgettable, merry time away.
Royal Mansour Marrakech, Marrakech, Morocco
The Royal Mansour Marrakech is a luxurious hotel famous for its lavish decor and glamorous vibe. At Christmas, the hotel takes it to the next level. The stay is transformed into a magical oasis full of the most beautiful decorations to celebrate the festive season. Each year the hotel selects a fantastical theme to inspire the stunning decorations with last year's being 'Sounds of Nature,' and this year is soon to be announced. The season is also marked with some exceptional food as festive menus and treats are prepared by talented Michelin-starred chefs from one of the hotel's wonderful four onsite restaurants. The hotel is also a short walk away from the Bahia Palace and the famous Jemaa el-Fna square so guests can explore famous Moroccan sites nearby with ease. For culture hounds, a Half-day Guided Cultural and Historical Tour of the city will allow you to discover the city's heritage and traditions led by a local guide. After a day of adventure, guests can unwind with a dip in one of the hotel's three pools or book a treatment in the spa for a relaxing treat.
Gleneagles, Scotland, United Kingdom
Established in 1924, Gleneagles is a prestigious hotel resort in the heart of Scotland that becomes a winter wonderland through the festive season. Guests can embark on a brisk winter walk and return to warm up with afternoon tea by the roaring fire. The hotel's festive program is out of this world, with ice skating on the hotel's pop-up rink to reindeer visits from Santa's special friends and Christmas film screenings in the cinema. For families visiting, pony trekking, arts and crafts, and a treasure hunt can all be enjoyed before toasting marshmallows and devouring chocolate after a day of fun – perfect for the 54% of Canadian parents who want to select child-friendly destinations with playful and fun activities. The hotel offers cozy rooms with many overlooking their beautiful grounds. Guests can hope to wake up to a white Christmas and are guaranteed an award-winning Scottish breakfast to tuck into.
The Dolder Grand, Zurich, Switzerland
Surrounded by rolling hills with panoramic views of the snowy Alps and the city of Zurich, The Dolder Grand is an incredible hotel. Featuring vibrant and modern interiors full of contemporary art, the hotel decor transforms into a Christmas wonderland where guests literally feel like they are walking into a festive fairytale. The hotel rooms are decorated with stockings, beautiful wreaths, and charming garlands to create the most joyful atmosphere for the holidays, and some suites are even adorned with a special Christmas tree. The hotel has a Michelin-star restaurant that serves exceptional food and provides its very own holiday season-themed brunch for guests to enjoy. The spa offers rejuvenating and relaxing facials, massages, and body rituals and guests can admire the breathtaking view from the large heated outdoor pool or hot tub. Festive guests with a sweet tooth can indulge in the local delicacies by booking a Chocolate Tour in Zurich to sample the confectionery with a warming hot drink.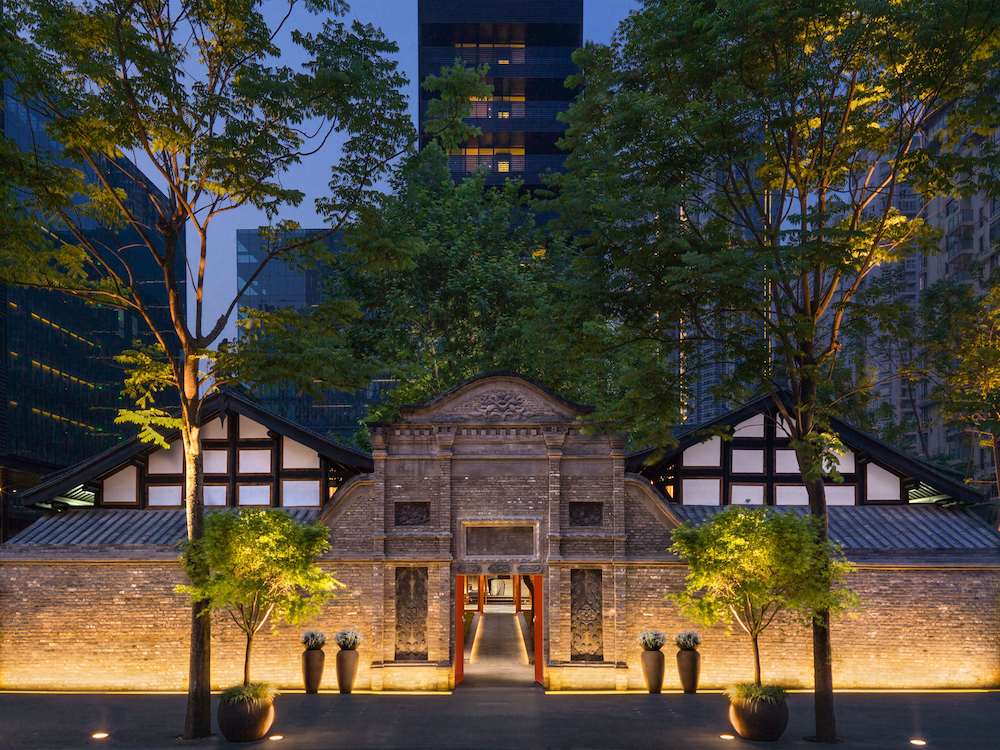 The Temple House, Chengdu, China
Just a short walk from Tiafru Square, The Temple House is a special place to stay during the holiday season in Chengdu. This Booking.com Travel Sustainable stay, which has a ban on single-use plastics and uses 100% renewable energy throughout the property, always aims to celebrate Christmas in a sustainable fashion. In 2021, the hotel created a stunning seven-meter Christmas tree constructed out of recycled glass bottles to create a beautiful and unique structure. Guests gathered in the luxury hotel's courtyard for the lighting of the magnificent Christmas tree and a charity bazaar was hosted to give guests the opportunity to purchase some festive goods for a good cause. This is a fantastic opportunity for the 73% of Canadian travellers interested in community-minded travel to support local communities and traditions. The Temple House features stylish modern interiors with a traditional Chinese twist, and guests can enjoy the library, fitness center, and boutique spa. To immerse themselves in the local culture and celebrate the holiday season in Chengdu, visitors can attend a Sichuan Opera Show at the Shufeng Yayun Teahouse. Here, guests will take in evening entertainment with a warming cup of Sichuan tea as they watch a performance of actors, puppeteers, dancers, and acrobats in an unforgettable spectacle.
The Breakers, Palm Beach, Florida, United States
For the 33% of Canadian travellers who said they were likely to take a beach vacation this year, the Breakers Palm Beach is a luxury escape located on a private beach for a vacation in the sun this holiday season. This gorgeous resort on the seashore is perfect for an indulgent stay and is decorated to the max at Christmas with glistening lights, colourful ribbons, and beautiful bows. The hotel also offers delicious holiday dining options from afternoon tea serving buttermilk scones and delicate tea sandwiches to a holiday brunch on Christmas day itself serving a glorious buffet and unlimited champagne cocktails and bloody marys to toast the festive celebrations. For visitors with a sugar craving around the holidays, a candy store tour shows visitors how some of their favourite sweets are made and gives them a generous discount to purchase some gifts for family, friends, or even themselves. Guests can enjoy a dip in one of the resort's four heated oceanfront pools or five hot tubs and dine with friends and families during the holiday season in one of the phenomenal on-site restaurants. The hotel is also a Booking.com Travel Sustainable stay and invests a percentage of revenue back into sustainability or community projects, spreading some festive joy around all year long.
Sofitel Legend Santa Clara Cartagena, Cartagena, Colombia
The Old Town of Cartagena is a festive hotspot with a buzzing atmosphere during the holiday period. The city comes alive on the cobblestoned streets with colourful giant baubles, luscious trees, and flower-filled balconies adorned with bright lights as street vendors sell gifts to locals and visitors alike. The Sofitel Legend Santa Clara Cartagena is a stunning hotel housed in a former monastery dating from the 17th century and features rooms with balconies overlooking the hotel's lush gardens or the vast Caribbean ocean. Guests can also enjoy a sunset cruise around Cartagena Bay for an unbelievable view of the city's skyline after grabbing a cocktail at the boat's open bar. The property has a Booking.com Travel Sustainable badge offering guests bike rental and parking so they can cycle around to explore the city, as well as providing information regarding local ecosystems, heritage and culture. Every Christmas Eve, the hotel hosts a heavenly family-style dinner in the traditional part of the hotel and serves delicious regional cuisine for friends and family to dig into. For guests staying throughout the holiday season and into the New Year, the hotel also throws a knockout New Year's Eve party with live music, top-tier food and drinks, and fireworks. After the celebrations, guests can recuperate in the hotel's picturesque spa and sauna and rejuvenate after some indulgent fun evenings.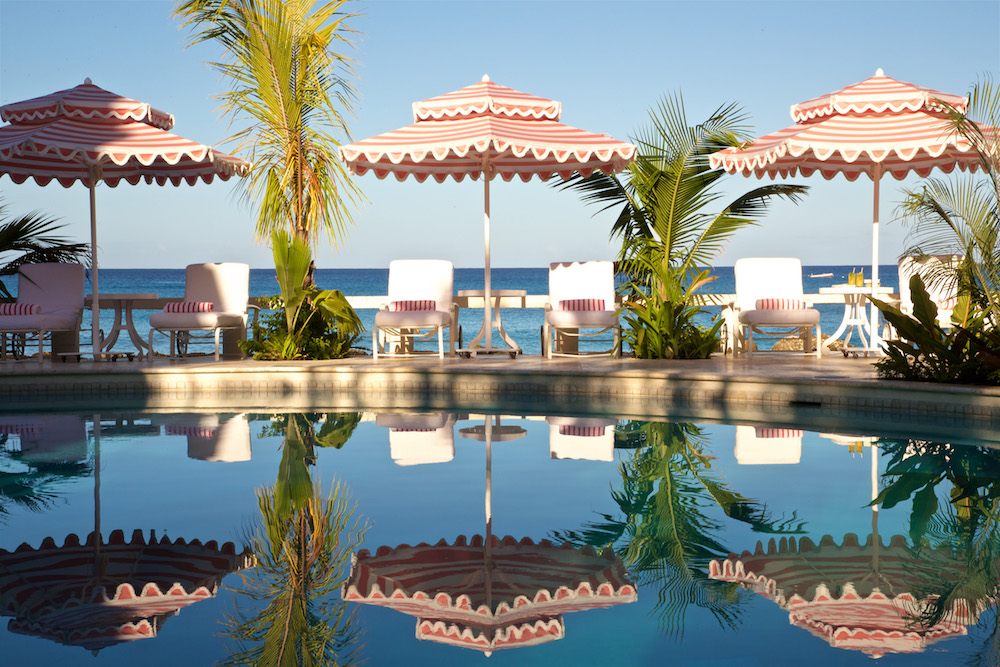 Cobblers Cove, Saint Peter, Barbados
For Christmas in a peaceful, beachfront location Cobblers Cove in Barbados is a stunning spot for the festive season in the sun. Featuring exotic, luscious gardens and a freshwater swimming pool overlooking the Caribbean ocean, guests can enjoy free watersports such as windsurfing, sailing, and waterskiing for an unforgettable experience full of adrenaline. Snorkelling is also a popular activity to explore the expansive reef offshore and the beautiful rock formations of Harrison's Cave are just a short drive away. The hotel is famous for its extravagant dinners on Christmas and Old Year's Night, the traditional Caribbean name for New Year's Eve. Mouth-watering food is served at the award-winning Camelot restaurant and a terrific program of fun activities and funky live music is bound to keep guests entertained and on the dance floor all night long. The hotel's Old Year's Night party is especially well known in Barbados for hosting a fun evening full of delicious cocktails, fun tunes, and fireworks.
For those who can't wait to get into the festive spirit, Booking.com is sharing Late Escape Deals to make it easier to tick another destination off your 2022 wishlist. Discounts start at 15% at participating properties indicated by the "Late Escape Deals" badge and are valid for stays with check-out on or before January 3, 2023. Booking.com is also giving travellers around the world the keys to unlock a new level of additional perks with the introduction of a third tier to its Genius loyalty program. Designed to make every trip a better experience, Booking.com's loyalty program is free and easily accessible, and membership lasts a lifetime. Travellers simply need to create a Booking.com account to achieve Genius status for life. As Genius members unlock new levels, they get access to larger discounts and more travel rewards that never expire. Just sign into your Booking.com account and look for the Genius logo to identify exclusive benefits, discounts and perks.