The best hotel pools in Canada
How does swimming among the clouds sound? Or admiring a winter wonderland from the comfort of a gently steaming heated pool? Whatever kind of pool you're looking for, we've got them covered with this selection of irresistible hotel pools in Canada.
Fairmont Pacific Rim in Vancouver, British Columbia
Swimming in the Fairmont Pacific Rim pool, it's easy to forget that you're right in the centre of one of Canada's most exciting cities. Palm trees line this rooftop pool and in the evening, firepits create a sense of peace and relaxation, while you happily sip cocktails (including non-alcoholic options) far removed from the busy streets below. Fairmont Pacific Rim is also a Travel Sustainable property on Booking.com, easily found along with many sustainable-certified properties around the world on Booking.com by searching with the Travel Sustainable badge. This new search parameter helps travellers find the perfect accommodation for them when looking to make more sustainable travel choices.
Gîte du Haut des Arbres in Saguenay, Québec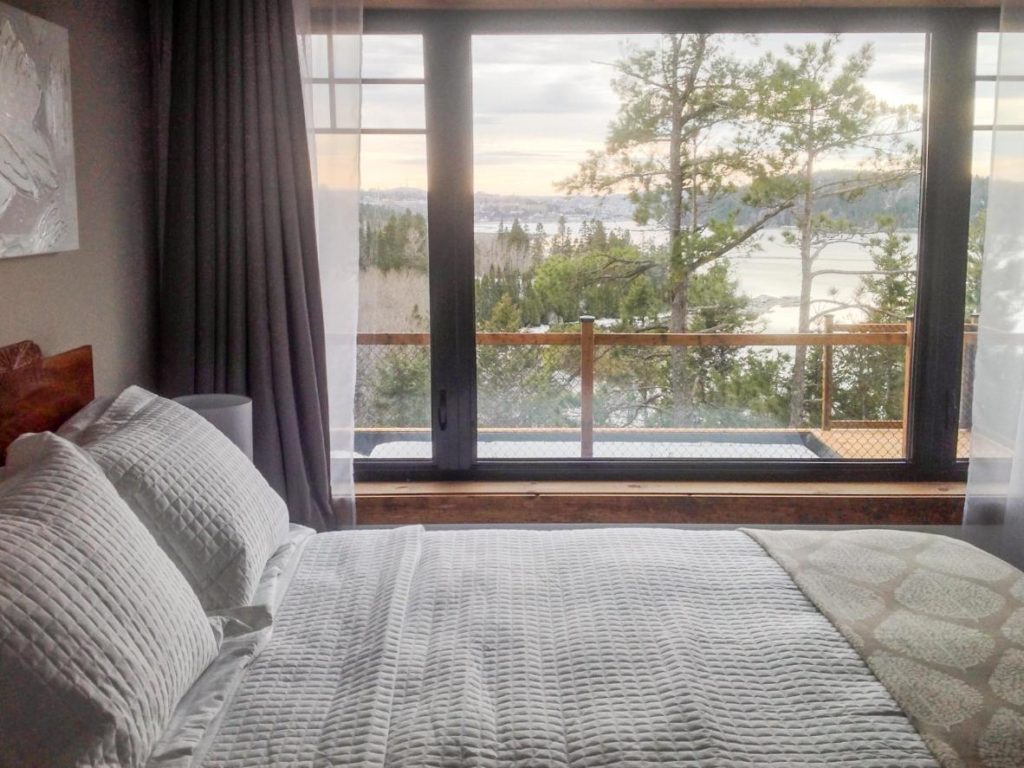 The heated outdoor pool at Gîte du Haut des Arbres looks out over fir trees and across the River Saguenay. Visitors in the colder months will find the view especially enthralling as thick snow blankets the forest and creates a landscape straight from Narnia.
Auberge Sous L'Edredon B&B in Saint-Sauveur-des-Monts, Québec
What's better than a mountain view? How about a mountain view from a heated outdoor pool, surrounded by evergreen forest and in the immaculate grounds of a 19th-century garden? Auberge Sous L'Edredon B&B sits on the slopes of Mont Habitant and is just a six minute walk from St-Sauveur Lake.
Hotel Quintessence in Mont Tremblant, Québec
With views of Lake Tremblant from both the brilliant blue pool and bay windows at Hotel Quintessence, you can indulge in the scenery whether you're underwater or not. Follow your early morning swim with breakfast on the terrace, or dry off after a midnight dip in front of your room's private, wood-burning fire.
The Ritz-Carlton Montreal in Montreal, Québec
At the Ritz-Carlton Montreal, guests can choose between the indoor laps pool (which is attached to the hotel's luxury spa) and the salt-water plunge pool, for a slightly more bracing experience. And for the night owls among us, the hotel's pool is lit up at night, should you fancy a swim before bed.
L'Hermitage Hotel in Vancouver, British Columbia
The L'Hermitage Hotel is only a 13-minute walk from Sunset Beach Park, although if you're tired after a long day of sightseeing, the hotel pool is an enticing alternative. Surrounded by sun loungers and carefully maintained greenery, this aqua lap pool is the perfect spot to retreat from the heat of the day or to ditch the parasols and top up your vitamin-D levels.
Gîte Un Air d'Été in Mont Sainte-Anne, Québec
The River Lawrence sits at the bottom of the Gîte Un Air d'Été garden, where boats are moored and ready for guests to hop aboard. After a long day 'messing about in boats', guests can choose between relaxing in the hotel's hot tub or swimming a few leisurely laps in the ideally situated outdoor pool.
Villa Eyrie Resort in Malahat, British Columbia
The mineral pool at Villa Eyrie Resort is as close as you're likely to get to swimming among the clouds. Perched at the top of the Malahat Summit on Vancouver Island, these villas benefit from a seemingly endless view of the Pacific Ocean and the indoor pool is given prime position, with floor-to-ceiling windows bathing it in natural light.