4 Great International Getaways to Spot Winter Wildlife
While many of us are likely dreaming of getting away this winter, let's face it – this year is the time to embrace hibernation like never before. To distract and inspire you to travel again when the time is right, here are some animals that do the opposite of longing to get away and actually come into their own during the cold seasons.
Recent research from Booking.com found that, as we learn to live with the consequences of the pandemic in 2021 and beyond, travellers will look to embrace a new, stripped-back way of experiencing the world. Worldwide and within Canada, travellers have indicated an increased desire to enjoy more of our natural resources. Use of simple pleasure-related endorsements such as hiking (94%), clean air (50%), nature (44%) and relaxation (33%) on Booking.com have increased since the start of the pandemic*. This research has shown that almost three quarters of Canadian travellers (73%) will look to appreciate simple experiences, like spending time outdoors, and over half (57%) will seek out more rural, off-the-beaten-path experiences to immerse themselves into the great outdoors.
We strongly encourage travelers to research the COVID-19 cautions and regulations in any given area that you may be considering visiting beforehand.
Travelers can rest assured that they will have a safe stay at a Booking.com property as the travel leader now ensures properties' safety measures (such as hygiene, sanitisation, and physical distancing) are clearly visible on a property's page. With over 14 million listings on Booking.com having implemented new health and safety measures, the global travel leader is helping make it easier for everyone to experience the world, safely and comfortably.
With that in mind – from watching monkeys bathe in Japan's hot springs to spotting orcas off the coast of Iceland, below are four of the world's top destinations for admiring an array of winter's most majestic wildlife.
Yamanouchi, Japan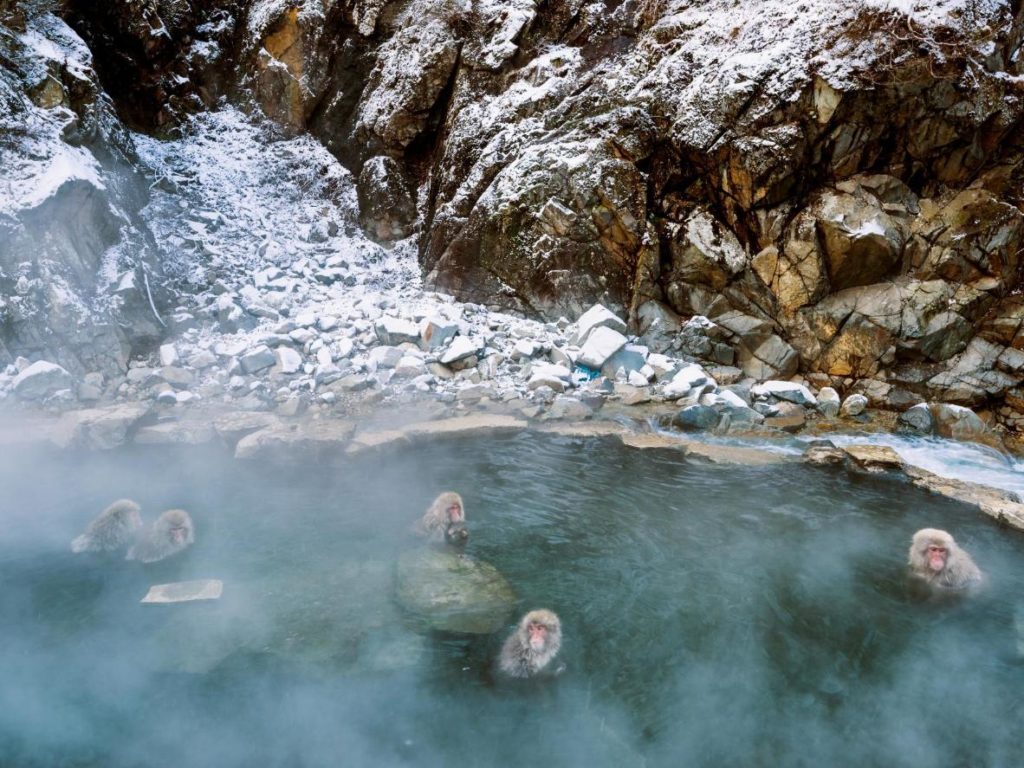 At Jigokudani Monkey Park in Yamanouchi, visitors can see Japanese Macaque, also known as snow monkeys, bathing in hot springs. Accustomed to humans, they're happy to go about their monkey business with an audience. The park is open year-round but the monkeys use the pools most during the snowy winter months – January and February being the best times to visit.
Grundarfjörður, Iceland
In recent years, orcas – also known as killer whales – have started to appear on the shores of Iceland during the summer. The majority of sightings have taken place in and around the Grundarfjörður harbour, where the orcas hunt the herring that take shelter in the fjords. You can organize a boat ride to see these beautiful mammals up-close or simply view them from the harbour's shoreline.
Anchorage, Alaska
When the temperature drops, the moose outside of Anchorage head to lower elevation in search of food. This means that you actually have a better chance of seeing these giants in Anchorage during the winter months than in the summer. One of the best places to see them in their natural environment is along the Tony Knowles Coastal Trail, a 17km-long trail that starts in downtown Anchorage and finishes in Kincaid Park.
Tromsø, Norway
The Sami people of Arctic Europe have a history of working with reindeer that spans hundreds of years. While many of their interactions with the reindeer have been modernized, lots of older traditions remain and Tromsø is the perfect place to experience them firsthand. Take a reindeer sledding ride, feed a herd of reindeer and learn about Sami culture with one of the numerous local organized tours.
Booking.com is running numerous Black Friday deals, offering 30% or more in savings on stays until December 31st, 2021. You can find your own Black Friday deal right here.