Vessi, makers of Vancouver's famous waterproof sneakers, opens its first retail store at Metropolis at Metrotown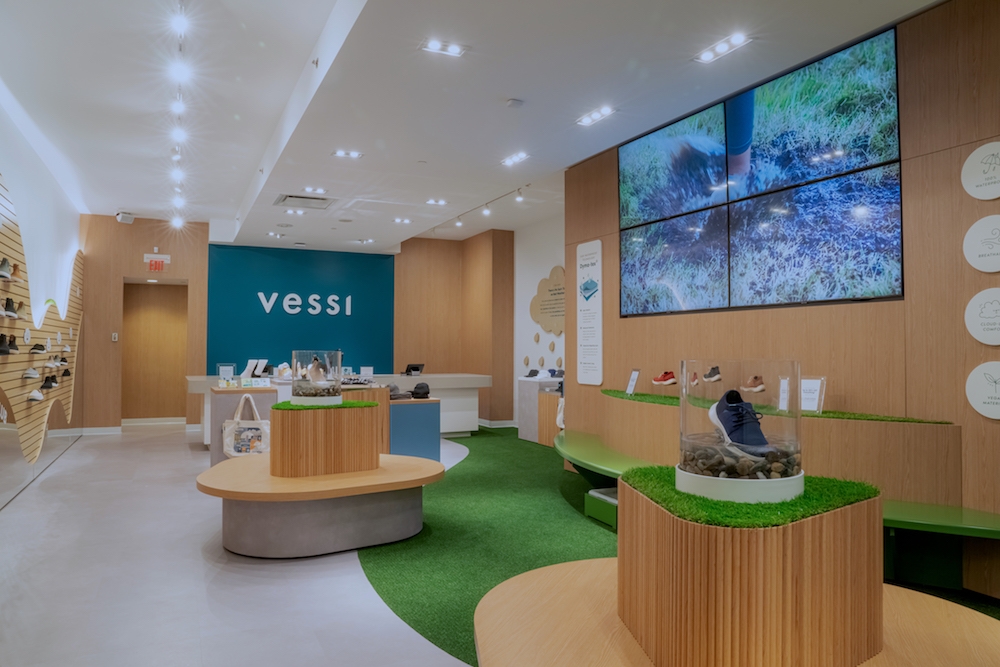 Vessi, makers of Vancouver's famous waterproof sneakers, opened the doors to their first permanent retail store at Metropolis at Metrotown. Vessi fans and local shoppers can now get a first hand experience of Vessi's full range of footwear and accessories, try them on for size and take home a pair just in time for the winter weather.
The store spans 1,000 square-feet and has been designed to pay homage to the brand's hometown, the city of Vancouver. This includes a feature wall that mimics the mountains, concrete and grass showcasing the perfect balance of nature and urbanism that the city is known for.
In addition to the full range, this store will feature limited edition store-only items that have been designed by local Vancouver artist Cynthia Vo. This includes two pins, a tote, and three postcards.
"We're incredibly proud to open Vessi's very first retail store in our hometown when we started off with a humble Kickstarter campaign 4 years ago" says Mikaella Go, Co-Founder of Vessi. "We attribute a lot of our success to the strength of our community. Listening to our fans has been a big commitment of ours and we heard that they want an in-person shopping experience in Vancouver. It was a no-brainer for us to open up our first store in the city we love and live and work in. We're excited to meet our existing customers in-person and to introduce more customers into the Vessi community."
To thank the community for their support and to celebrate the grand opening, Vessi is hosting the following door crasher promo:
– First 10 people will receive a $135 Vessi gift card
– First 100 people will receive a limited edition Vancouver merch including pins, totes, and postcards designed by a local artist
The retail store is one of the ways Vessi is expanding and fueling growth in target markets. In addition to this permanent retail store, Vessi will be testing additional markets with pop-up stores in other Canadian cities, and will be continuing to build its presence in U.S. markets through pop-up trunk shows at select Nordstrom locations.
For those looking for holiday shopping deals, Vessi is currently offering Black Friday deals both in store and online. From now until Cyber Monday, shoppers can save up to 30 per cent off and receive a $25 gift certificate for every $110 spent.