Kicking off October's BC Craft Beer Month with limited-edition EXPLORE BC Peach Farmhouse Ale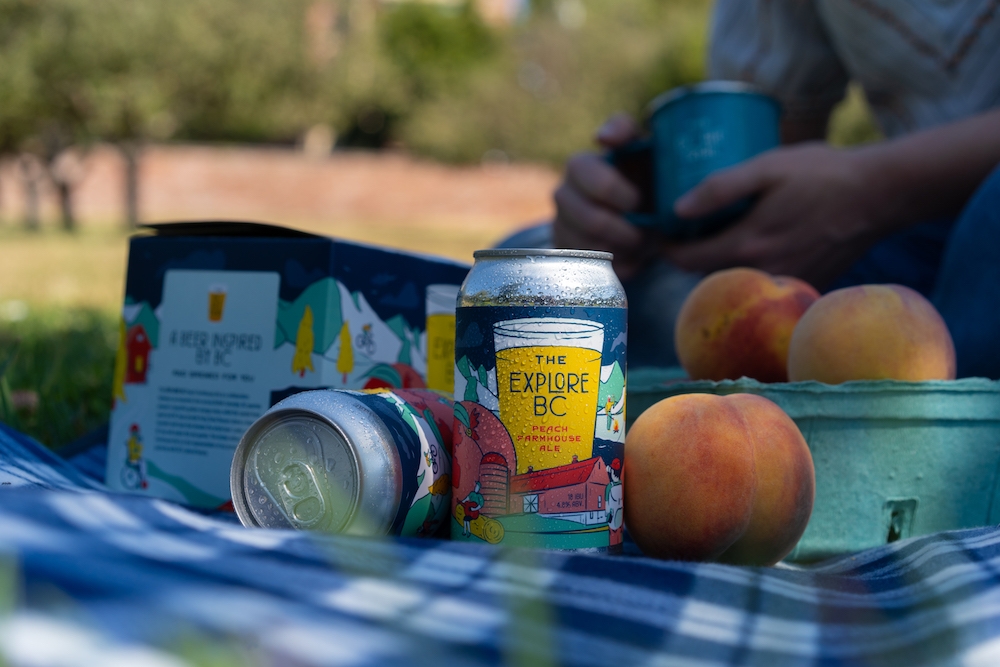 The EXPLORE BC Beer Series, brought to you by the BC Ale Trail in partnership with Destination BC, celebrates the fall season with a new limited-edition craft beer, and special offers to explore the province's vast Ale Trail network.
Launched in tandem with BC Craft Beer Month, the EXPLORE BC Peach Farmhouse Ale is a collaboration by six breweries representing all of the province's tourism regions. Produced by Ravens Brewing Company, the beer will be available at select liquor stores, restaurants and craft breweries across the province starting this week.
During a collaborative recipe planning process, the six breweries chose a style to truly showcase British Columbia's craft beer scene and its connection to the agricultural communities of BC. The EXPLORE BC Peach Farmhouse Ale showcases a beautiful harmony between the Okanagan Valley's famed peaches, BC grown barley malt from Country Malt, and hops from the family-owned Brendenhof Hop Farms in the Fraser Valley. Lærdal Kveik yeast works to create a delicate, rustic farmhouse base that blends perfectly with the subtle peach flavour. And finally, a pinch of Vancouver Island Sea Salt adds a brightness to the fruity finish, making you crave another sip.
The EXPLORE BC Peach Farmhouse Ale was concocted by six breweries from across BC:
– Ravens Brewing in Abbotsford (representing Vancouver, Coast & Mountains)
– Deadfall Brewing in Prince George (representing Northern BC)
– Fox Mountain Brewing in Williams Lake (representing the Cariboo Chilcotin Coast)
– Slackwater Brewing in Penticton (representing the Thompson Okanagan)
– Torchlight Brewing in Nelson (representing the Kootenay Rockies)
– Whistle Buoy Brewing in Victoria (representing Vancouver Island)
The breweries were selected by Ravens Brewing Company, a family-owned Indigenous Corporation in Abbotsford that has won multiple awards for its beers. Once the recipe was finalized, Ravens Brewing Company was responsible for producing the EXPLORE BC Peach Farmhouse Ale. On brew day, representatives from the BC Ale Trail and four of the six breweries attended Ravens, with the other two breweries joining remotely by video conference. Thank you also to our industry partners, Royal Labels (labels) and Glenmore Custom Print + Packaging (boxes) for your support on this project.
Locally made food and drink offerings have been identified by Destination BC as a key travel motivator for residents of BC and nearby destinations. The new EXPLORE BC beer supports Destination BC's latest domestic marketing campaign, which encourages BC and Alberta residents to explore the province this fall.
The EXPLORE BC Peach Farmhouse Ale is available at select BC liquor stores, private liquor store retailers, craft breweries and restaurants starting this week.