5 Ways To Embrace Regenerative Travel With Indigenous Tourism BC On Earth Day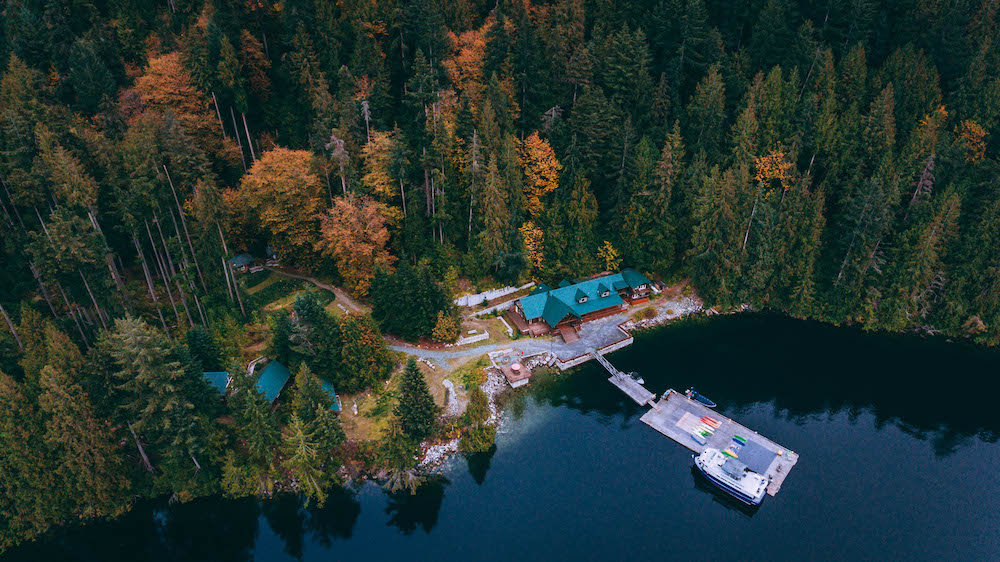 This Earth Day (04/22), Indigenous Tourism BC is encouraging travellers to go beyond sustainability and move towards a future of regenerative travel. Regenerative travel encourages travellers, tour operators and businesses alike to contribute to the well-being of the land and communities they visit.
Thriving local Indigenous communities have a deep knowledge of their environment, and the desire and ability to protect their natural resources. Regenerative travel encompasses concepts that contribute to ecological abundance, foster experiences deeply rooted in local culture, and ultimately treat a location with respect by giving back to the community.
Klahoose Wilderness Resort (Desolation Sound, BC) – A Culturally Enriching Travel Destination
Perched on the water's edge between BC's Salish Sea and Coast Mountains, Klahoose Wilderness Resort first opened in 2021 and is quickly becoming Canada's newest Indigenous eco-resort.
With a commitment to stewardship, the property follows a regenerative model by purchasing large amounts of local goods and employing community members with Indigenous guides sharing legends, stories, language, and songs with visitors. Additionally, the off-the-grid resort produces its own power, enabled by a grant to redesign and improve the property's water intake, eliminating the use of diesel fuel generators. The result of this change will eliminate 38 tonnes of carbon emissions annually.
Partnering with the Commercial Bear Viewing Association, the resort is a leader in developing best practices for grizzly bear viewing, uniform guide training and ongoing research to protect bear and wildlife habitat.
Nemiah Valley Lodge (Nemiah Valley, BC) – Indigenous Immersion at ITBC's Newest Lodge
Located next to BC's world-renowned Tsylos Provincial Park, Indigenous-owned Nemiah Valley Lodge is solar energy powered, offering stunning wilderness and immersive cultural experiences. The lodge employs local Xeni Gwet'in community members in all lodge roles, from Cultural Ambassadors to cooks, housekeepers and maintenance. Experiences at The Nemiah Valley Lodge are culture-focused, with itineraries highlighting traditional foods, language sharing and customizable land-based experiences.
Talaysay Tours (Vancouver, BC) – An Unforgettable and Educational Eco-Tour
Creating space to educate and inspire travellers is crucial to regenerative travel experiences. Talasay Tour guides have been sharing ancient and contemporary stories, legends and Indigenous ways of living while admiring old-growth forests, wildlife, coastal views, and flora and fauna. From Salish Sea boat tours to the Talking Totems Indigenous Art Tours and the Spoken Treasures Tour in Stanley Park, Talasay provides authentic experiences led by Indigenous guides like owner Candace Campo – a trained anthropologist and school teacher.
Explore Songhees (Victoria, BC) – Inspiring Locals and Visitors
Songhees gives guests a first-hand look at the land, culture and history of the Lekwungen people through guided walking and canoe tours in the Inner Harbour of Victoria. Through storytelling and site seeing, locals and visitors alike can enrich their understanding of the destination and the Lekwungen traditions bringing to life the culture, past and present.
Squamish Lil'wat Culture Centre (Whistler, BC) – Creating Positive Change
Built to share cultural knowledge to inspire understanding and respect amongst all people, the Squamish Lil'wat Cultural Centre (SLCC) is both a stunning architectural space and a centre focused on positive change. Located in the Upper Village of Whistler, the SLCC plays host to storytelling and live carving along with various showcases. The latest exhibit, UNCEDED, focuses on marrying regalia, elders, and chieftainship with the modern world, reshaping how we view our presence, and cultivating a sense of belonging to both the viewer and the people celebrated in the exhibit.