Valley Commons Winery Grand Opening on September 8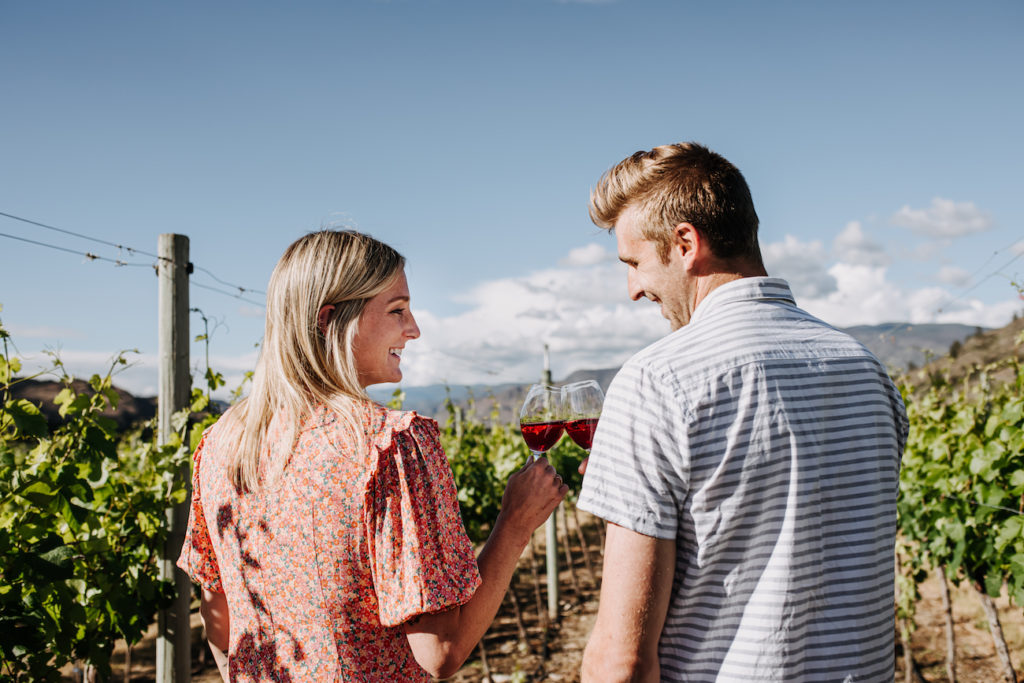 After months of planning and much hard work, September 8 is a big day for husband-wife duo Kyla Richey and Rudy Verhoeff. It's the day they open the doors to – Valley Commons in the south Okanagan's District Wine Village (DWV). The winery will also do a 'soft launch' at DWV starting on Saturday, September 4 for long-weekend visitors. Those at DVW this weekend will be the first to taste the wines and shop the merch.
Starting next week, Valley Commons will be open Wednesday through Monday (closed Tuesdays) 11 a.m. to 6 p.m.
"We are so excited to welcome guests and introduce them to our beautiful wines," says Richey. "Our tagline at Valley Commons is 'Where we gather' because we strongly believe that friendships and family ties are strengthened, and community is created when people gather to enjoy a glass of wine together."
Guest Experience
In addition to the tasting room, Valley Commons' beautiful new 1,500-sq-foot facility houses the winery's production area with its fermentation tanks. Guests may even catch a glimpse of winemaker Bill Adams working his harvest magic, as he transforms Okanagan and Fraser Valley grapes into beautiful wines.
The winery offers two different experiences for guests – a quick and casual visit to the stand-up tasting bar with a flight of four 'petit pour' wines for $10, or a more leisurely seated experience for $15 and five wine samples to savour. All the wines will be available for sale by the glass and the bottle. In addition to the stand-up tasting bar, the facility offers two tables with two seats each inside the tasting room and an additional 14 seats on the outside patio overlooking the central plaza.
The Wines
Visitors to Valley Commons will be able to enjoy its 2020 vintages created for the winery by Mark Simpson of BC Wine Studio. Starting with the 2021 vintage, wines will be made by Valley Commons staff winemaker Bill Adams and supported by consulting winemaker Pascal Madevon.
The current portfolio of 2020 vintages includes:
Garden Society, a premium red blend ($40/ btl, $14/glass)
Cabernet Franc ($35/btl, $12/glass)
Rosé ($30/btl, $10/glass)
Pinot Gris ($28/btl, $9/glass)
Harvest Table White, a blend ($25/btl, $9/glass)
Richey and Verhoeff want the tasting room to be a unique experience; not only for the sampling of their wines but also a way for individuals to be inspired by, and connect to, the natural beauty that surrounds them. The couple envision it as a place for people to gather and reconnect.
Richey comments, "We want it to be a place to come as you are and be welcomed as family. It will be a place that combines the sophistication of metropolitan tastes with the agricultural cornucopia of the Valleys. We invite people to visit Valley Commons to recharge their spirit and discover new, exciting wines."