St. Lawrence Celebrates New Michelin Star Designation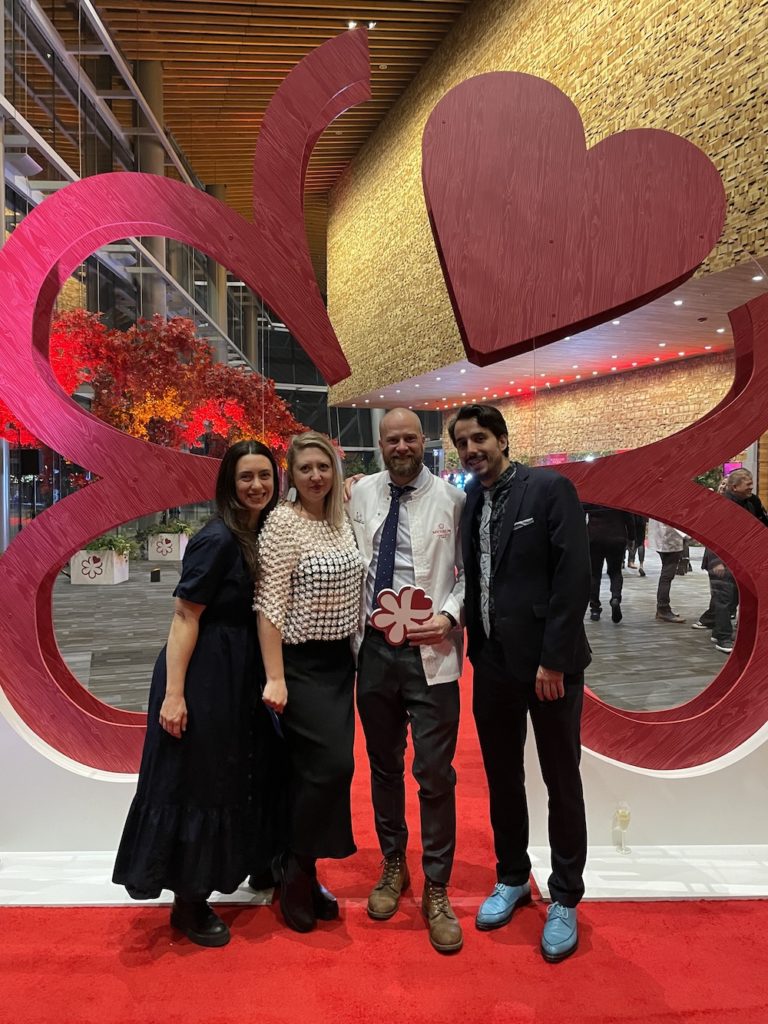 The team at St. Lawrence is honoured and grateful to announce the restaurant has been awarded one Michelin star in the new MICHELIN Guide Vancouver, announced among the Guide's inaugural list of exceptional restaurants during a ceremony at the Vancouver Convention Centre.
To receive a Michelin star is a dream realized for me," said Chef/Owner Jean-Christophe (J-C) Poirier. "St. Lawrence is my passion project. I'm so grateful for the way Vancouver has welcomed our unique blend of classic French cuisine with the food and culture of my home province, Québec. Now to have it recognized this way is an incredible thrill."
The Michelin star comes after a series of recent wins for the restaurant, which was also named Restaurant of the Year at the Vancouver Magazine Restaurant Awards on October 4, with the judges calling it "a marvel of a restaurant," as well as Gold for Best Upscale and Silver for Best French. It also placed top three in Canada's Top 100 Restaurants List earlier this year.
"There is so much to love about St. Lawrence with its textured walls, mosaic-tiled floor, antiques and open kitchen. A hit ever since opening, this charming Québécois bistro shares a true sense of place—it's even named for the region's mighty river. Sit close enough to Chef/owner Jean-Christophe Poirier's kitchen to experience the heady aromas of his rustic and hearty French-Canadian cooking. Begin with oreilles de crisse, a plate overflowing with crispy pork ears tossed in maple syrup and Montreal spices. Here, split pea soup takes on next-level flavor thanks to the addition of smoked bacon and foie gras. Finally, tarte au sucre is buttery and flaky, but it's that sweet maple syrup, vanilla and brown sugar filling that wins your heart." — MICHELIN Guide
The MICHELIN Guide dates back to 1900, when it was created to encourage tire sales by giving practical advice to French motorists. Today, the prestigious "red guide" showcases outstanding restaurants in more than 60 editions for destinations around the world. The anonymous inspectors of the Guide award Michelin Stars — One, Two or Three — for unparalleled cuisine. The Bib Gourmand selection highlights restaurants that offer great quality food at good prices, and the Michelin Green Star is given to restaurants that are leaders in sustainable gastronomy. The inspectors follow Michelin's historical methodology, based on five universal criteria, to ensure each destination's selection equity:
– quality products;
– the harmony of flavors;
– the mastery of cooking techniques;
– the personality of the chef in the cuisine;
– consistency between each visit (each restaurant is inspected several times a year).
It's these same qualities that Poirier shares in his upcoming cookbook, due to hit bookshelves on November 8, titled Where the River Narrows. The phrase is a direct translation of the Algonquin word "kebec," describing the area around Québec City where the St. Lawrence River is hemmed in by towering cliffs. The book is a loving homage to Poirier's home province, where his love for the nostalgic beauty of French cooking began. It includes recipes from both cultures, Québécois and French, and the intersections between them—whether from the menu of St. Lawrence, or from his kitchen at home.