Purdys Chocolatier Spreads Holiday Cheer with New Christmas Collection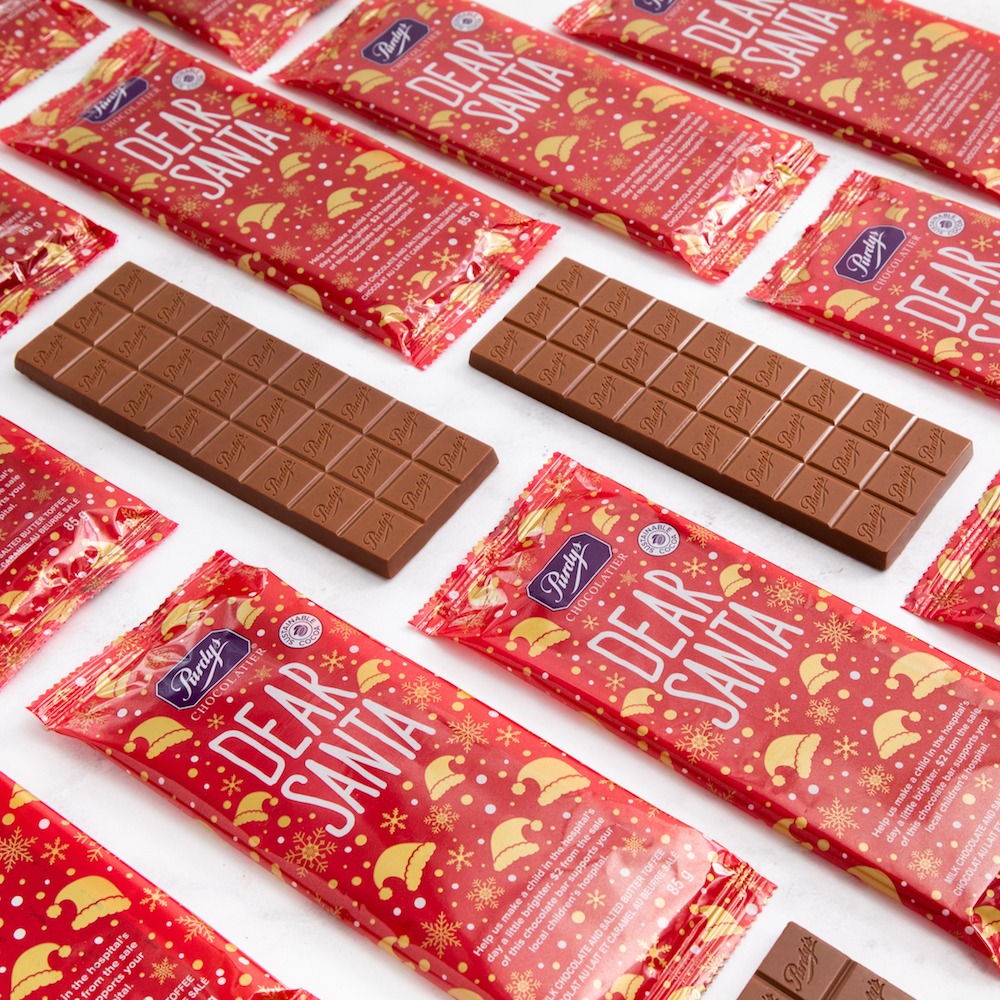 Purdys Chocolatier, a Canadian chocolate institution since 1907, has unveiled its 2023 Holiday Collection, featuring an assortment of gifting options to spread holiday cheer.
Spreading Joy with the Dear Santa Bar
For the fifth consecutive year, Purdys Chocolatier is bringing back its beloved Dear Santa Bar, a creamy milk chocolate bar studded with crunchy salted butter toffee. For every bar purchased, $2 will be donated to children's hospital foundations across Canada. Since its inception in 2019, the Dear Santa campaign has raised over $760,000 to support children and their families. This holiday season, Purdys Chocolatier aims to reach a record-breaking donation goal.
Purdys Chocolatier has partnered with 7 hospital foundations:
– BC Children's Hospital Foundation
– Alberta Children's Hospital Foundation
– Stollery Children's Hospital Foundation
– Jim Pattison Children's Hospital Foundation
– The Children's Hospital Foundation of Manitoba
– SickKids Foundation
– CHEO Foundation
Customers ordering the Dear Santa Bar online can select their preferred hospital partner before checkout. The bar is available in-store, online, and as a box of twelve (online only).
Unveiling New Delights for the Holiday Season
This year's Christmas Collection introduces a tempting array of new specialty chocolates to tantalize the taste buds of even the most discerning chocolate connoisseurs.
Canadian Wine & Spirits Gift Box: Indulge in the perfect gift for any wine lover with the Canadian Wine & Spirits Gift Box. This exquisite collection features an assortment of chocolates with velvety centers infused with the finest liquors from celebrated wineries and distilleries across Canada. These delectable creations provide the perfect pairing with holiday spirits and serve as an ideal after-dinner treat.
The gift box includes Whisky Cream, a truffle featuring Original Cream Liquor from Forty Creek in Ontario, Orange Liqueur, featuring Manitou Orange & Sumac Liqueur from Legend Distilling in B.C. and Canadian Ice Wine, featuring ice wine from Mission Hill in B.C.
Peppermint Crunch Bar: Capture the nostalgic essence of candy canes and the refreshing minty flavour in Purdys' new Peppermint Crunch Bar, a must-try for the holiday season. Crafted with 70% dark chocolate and candy cane bits, this delectable bar will spread Christmas cheer.
Classic Favourites Returning for the Holidays
Purdys Chocolatier's Christmas Collection wouldn't be complete without their signature chocolates, including Sweet Georgia Browns, Hedgehogs, Himalayan Pink Salt Caramels, and English Toffee. These fan favourites are beautifully packaged in festive wraps and sleeves, making them the perfect gift.
Vegan Delights
For those seeking vegan options, Purdys Chocolatier has you covered with their delicious Vegan Hawaiian Black Salt Caramels and Vegan Sweet Georgia Browns. These delectable treats offer a guilt-free indulgence, ensuring that everyone can enjoy the holiday festivities.
The Dear Santa Bar and the entire Christmas Collection are available online and in all Purdys Chocolatier shops across Canada.