Brewery & The Beast annual bbq and beer festival at Concord Pacific Place on July 28, 2019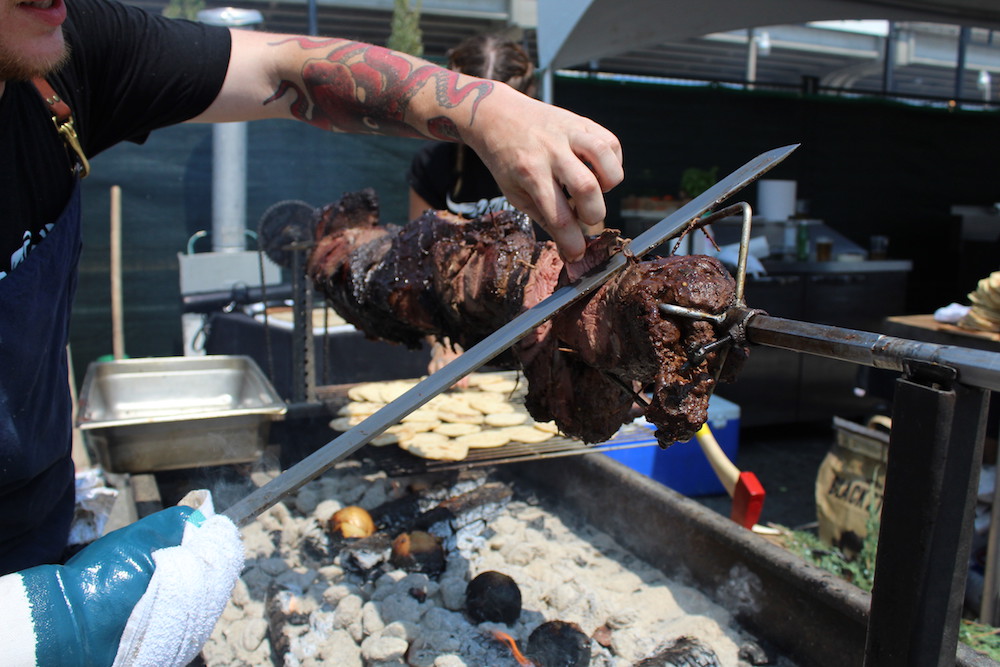 Leading chefs from Vancouver, Whistler and the Lower Mainland are gearing up for the seventh annual meat and beer festival, Brewery & The Beast, happening Sunday, July 28, 2019. Located at Concord Pacific Place (180 Pacific Boulevard), from 1 p.m. to 4 p.m., ticket-holders will have the opportunity to try dishes uniquely prepared by each chef with ingredients sourced from local and regional producers.
"I believe one of the biggest reasons the festival continues to grow is directly related to the level of commitment on the part of our chefs who create new and interesting dishes with quality ingredients year over year," said Scott Gurney, Founder of Brewery & The Beast. "Beyond providing a unique and premium culinary experience, Brewery & The Beast is dedicated to showcasing the best of local and sustainably-sourced ingredients."
Unique to this year, The Phillips Brewing Company will be highlighting the adventurous side of beer with a satellite pouring station where two new craft beers, developed exclusively for Brewery & The Beast Vancouver, will be showcased. Also new to this year's festival are participating restaurants Pourhouse, Tableau Bar + Bistro, Lil' Ronnie's Beachside BBQ (Tofino) Bauhaus, and Bartholomew, a new restaurant opening in Yaletown, with more new restaurants to be announced. Returning favourites include Boulevard Kitchen, Burdock & Co, Maenam, Medina Cafe and Royal Dinette. In total, this years festival will welcome more than 60 of the region's top chefs and restaurants.
"Although we've historically been a meat-forward festival and this will continue to be our focus, we've integrated new partnerships this year to ensure seafood and local produce are also highlighted," said Gurney. "Guests will notice a few more proteins sourced from the Salish Sea, as well as fresh fruits and a few interesting vegetable focused dishes."
Additional event highlights will include live music by Electric Timber Co. with special guests, the 32 tap "Gypsy Wagon" from the Phillips Brewing Co, Left Field Cider, and wine from producers local to BC, as well as kombucha tea and specialty coffee options.
Partnering sponsors for Brewery & The Beast include Two Rivers Specialty Meats, Phillips Brewing Co, Whole Foods, Napoleon Gourmet Grills, Open Table, Houweling's Tomatoes and Kerrisdale Lumber. Partial proceeds from ticket sales will benefit the Chef's Table Society of BC and the Hawksworth Young Chef Scholarship Foundation.
Full list of participating restaurants and companies include:
ARC Restaurant
Atlas Steak + Fish
Au Comptoir
Bartholomew
Bauhaus
BC Kitchen at Parq Vancouver
BigDay Barbecue
Boulevard Kitchen and Oyster Bar
Bowen Island Pizza Co.
Bucha Brew
Burdock & Co. Restaurant
Campagnolo Restaurant / Monarch Burger
Cascade Room
Chicha restaurant
Clough Club
Corduroy Pie Co.
DownLow Chicken Shack
el Santo
Fanny Bay Oyster Bar
Fiasco Gelato
Forage & Timber
H2 Rotisserie & Bar
Heritage Asian Eatery
Homer St Cafe and Bar
Tableau Bar Bistro
Hook Seabar
Houweling's Group
HYCS
Johnston's – Fresh, Local, Quality
Juke Fried Chicken
Juniper Kitchen & Bar
JW Marriott Parq Vancouver
La Mezcaleria
La Pentola
Left Field Cider Co
Lil Ronnie's Beachside BBQ
Maenam
Mamie Taylor's
Marriott Hotel – Downtown
Medina Cafe
Mile One Eating House
Nightingale
Paella Guys
Peckinpah BBQ
Phillips Brewing & Malting Co
Phillips Soda Works
Pidgin
Pourhouse
Railtown Catering
Royal Dinette
Shangri-La Hotel – Vancouver
Tap & Barrel Vancouver
The Ellis
The Gull Bar and Kitchen
Two Rivers Specialty Meats
Vancouver Community College
West Oak
West Restaurant
Whole Foods Market
Wildebeest
Tickets for Brewery & The Beast are $109.95 + tax & service fees and are available for purchase at 10:00am on Wednesday, May 1 at: www.breweryandthebeast.com. This price includes all food and beverages. Brewery & the Beast is a 19+ only event.