Lumière Festival 2023 to illuminate Vancouver with over 30 light-based artworks and projections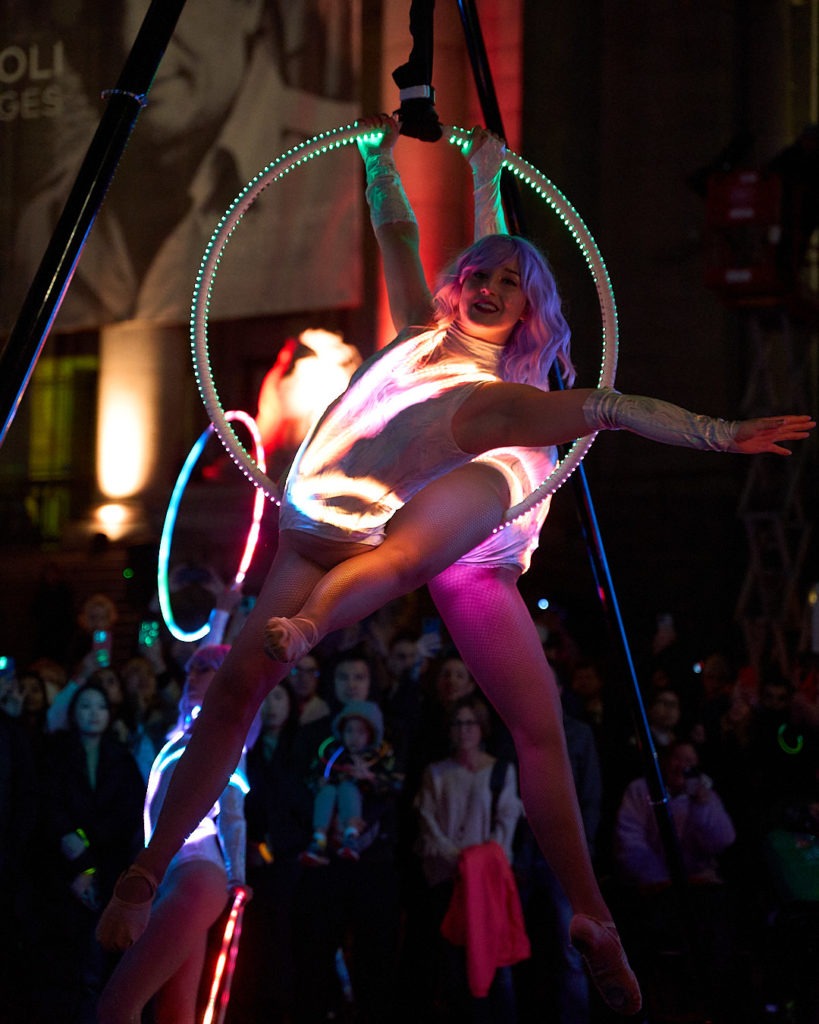 Lumière Festival 2023 is back, and it's bigger and brighter than ever! From November 2 to 6, downtown Vancouver will be transformed into a magical wonderland of light and art, with over 30 light-based artworks and projections to explore.
Over the next five days, you can wander through the festival's many different themed locations, including Motion, Rec Room, Hypnotic, Portals, Elements, Dreamscape, Seascape, Liquid Refraction, and Nature.
Some of the highlights of this year's festival include:
THE TUNNEL by Paul Magnuson (Calgary, Alberta): A series of strange, 12 feet tall cosmic structures create a tunnel of magical light and sound.
LIFE IS A CIRCUS by Sandra Bérubé (Vancouver, BC): A gravity-defying, circus interactive large-scale art installation.
LED PERFORMANCES by Elektric Collective (Vancouver, BC): Join the "Rec Room", located at 1200 Bute Street, in the evenings of Friday, November 3rd, and Saturday, November 4th for live LED performances by Elektric Collective.
POPSTAR by Tybot Laboratories (Vancouver, British Columbia): This innovative installation takes the form of a mobile popcorn stand, crafted to resemble an oversized theatre popcorn box.
KALEIDOSCOPE by Foxlight Labs (Eugene, Oregon): A giant kaleidoscope, approximately 8 feet in size, with over one thousand LED lights inside, which shine in mesmerizing patterns and a variety of colours.
SYNERGIES by Grégory Lasserre & Anaïs met den Ancxt (Rhone-Alps, France): An interactive, collective and performative digital artwork installation renewing the approach of the video mapping.
B.O.N.D. (BIDIRECTIONAL OBJECTIVE NEGATIVITY DISPELLER) by SUPER LUMINOUS (Vancouver, BC): BOND utilizes cutting-edge quantum entanglement principles to deconstruct and neutralize negativity particles in its immediate vicinity.
EMBER ARTS FIRE SHOW by The Ember Arts Fire Society (Vancouver, BC): A large-scale performance and sculpture piece that is unique, experimental, safe and a lot of fun.
RADIANT CONTOURS by Knowhere Design (Vancouver, BC): An innovative and captivating installation that celebrates the breathtaking topography of British Columbia, with a focus on Lower British Columbia, Vancouver, the Sea-to-Sky Corridor, and Vancouver Island.
IRIDESCENT DREAMS by Shadow Puppet Productions (Vancouver, BC): Giant bubbles that take you on an amazing journey to far off places.
LUX DRAGON by Nickie Lewis (Burnaby, BC): A glowing gentle beast that is 15 feet long and eight feet tall, composed entirely from natural and biodegradable materials.
JELLYFISH FOREST by Zac Bensing, PXL Lab (San Diego, California): An immersive volumetric light sculpture featuring 12 jellyfish with 84 touch-responsive tentacles.
THIS VELVET LIGHT by Scott Keva James (Seattle, Washington): A captivating landscape where visitors become active participants in a dynamic dance of light and sound.
THE WISHING TREE by BC Parks Foundation: A cross-cultural, artful experience that fosters a deeper connection with nature. Visitors have the opportunity to make healing wishes for nature, the world, and each other, contributing to the creation of new parks and protected areas in BC.
Lumière is a free, accessible and uplifting festival that brings people and communities together through light and art. So come and experience the magic!