Latin American Heritage Month Returns to Vancouver, October 14 – November 2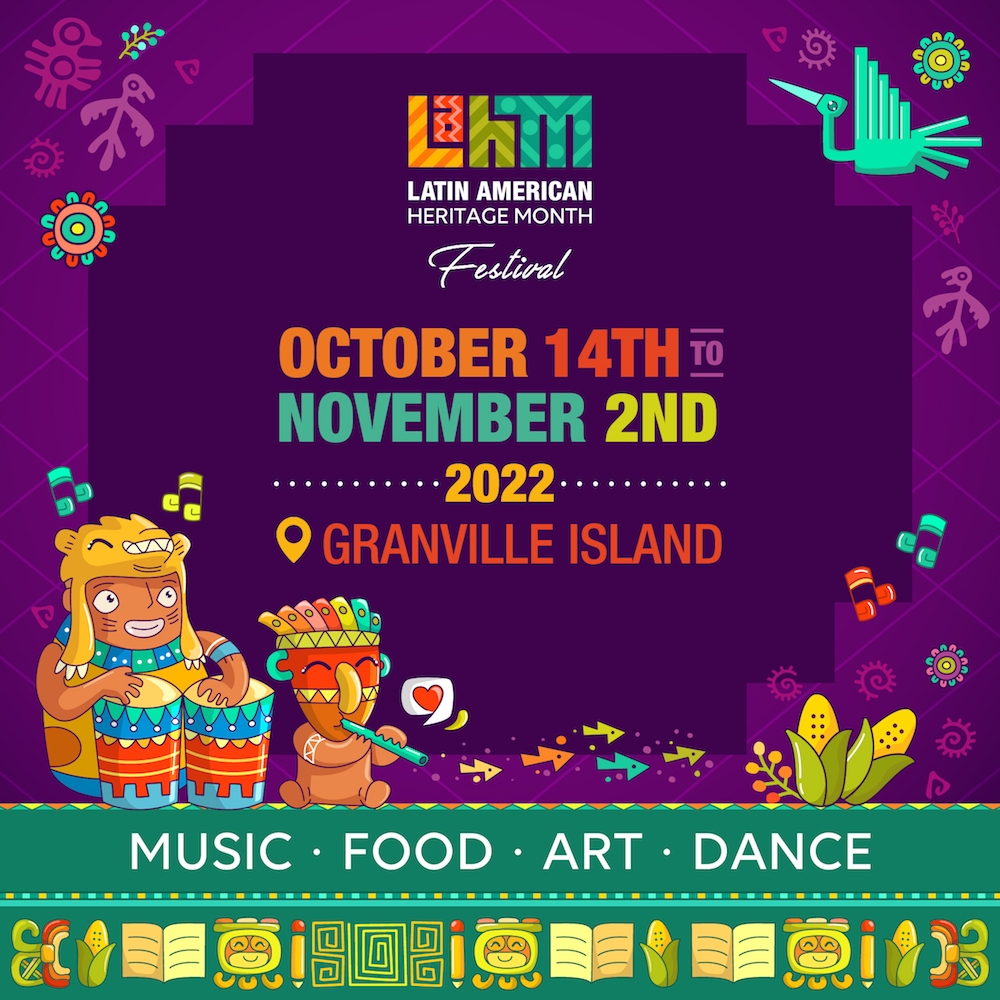 Latincouver is thrilled to announce the fourth annual Latin American Heritage Month celebration.
Taking place from October 14 to November 2 at various locations on Granville Island and other venues throughout Vancouver, Latin American Heritage Month Festival offers an exciting variety of in-person and virtual events, including live music and dances, art exhibitions, a marketplace featuring food and craft vendors, workshops, video mapping projections, and much more.
In 2018, the Parliament of Canada proclaimed October to be Latin American Heritage Month, in recognition of the Latin American community's tremendous contribution to Canadian society. The 20-day Festival is a perfect way to join in with the rest of Canada to honour and commemorate the richness and vitality of Latin American culture and traditions.
Some highlights of the festival include:
October 27: Flamenco, Tango & Wine: Live music and dance from Mozaico Flamenco, Tango Lab, and Liliam Santamaria, plus Christopher Stewart Wine & Spirits, and Spanish food from ARC Iberico Imports.
October 28: Jorge Vercillo in Concert: A pop rock and jazz fusion concert with successful Brazilian composer and vocalist Jorge Vercillo, the acclaimed guitar and multi-instrumentalist Celso Machado, and Heloa with her Brazilian-Indie rock style. *River Rock Theatre, Richmond
October 29: Noite de Festa Brasileira: Live music from Vancouver's own Sambacouver, Forró do Cana, and Samba Fusion, plus food available for purchase from Boteco Brasil.
October 29 – 30: Latin Market ft. Dia de Muertos: Live music, workshops, more than 30 vendors (including tacos, tamales, quesadillas, hot chocolate, mulled wine and beer), kids' activities and more.
October 29 – November 1: In-Person Workshops: Including Learn How to Dance Salsa, Afro-zumba and Macuele, Capoeira, How to Make an Altar de Muertos, and Become La Catrina — a makeup workshop for the popular icon of el Día de los Muertos (Day of the Dead). All levels welcome; free registration.
November 1: Día de Muertos Celebration: A community gathering to remember the dearly departed with live music, Mexican Bread, and hot chocolate. Haida House, Museum of Anthropology, UBC.
"The Latin American Heritage Month Festival has been an overwhelming success since its launch in 2018," says Latincouver Executive Director, Paola Murillo. "This is a festival created to entertain and inform people of all ages and cultural backgrounds. We look forward to welcoming everyone throughout the festival's 20-day run."