Dine Out Vancouver Festival's Street Food City: January 21 – 29, 2023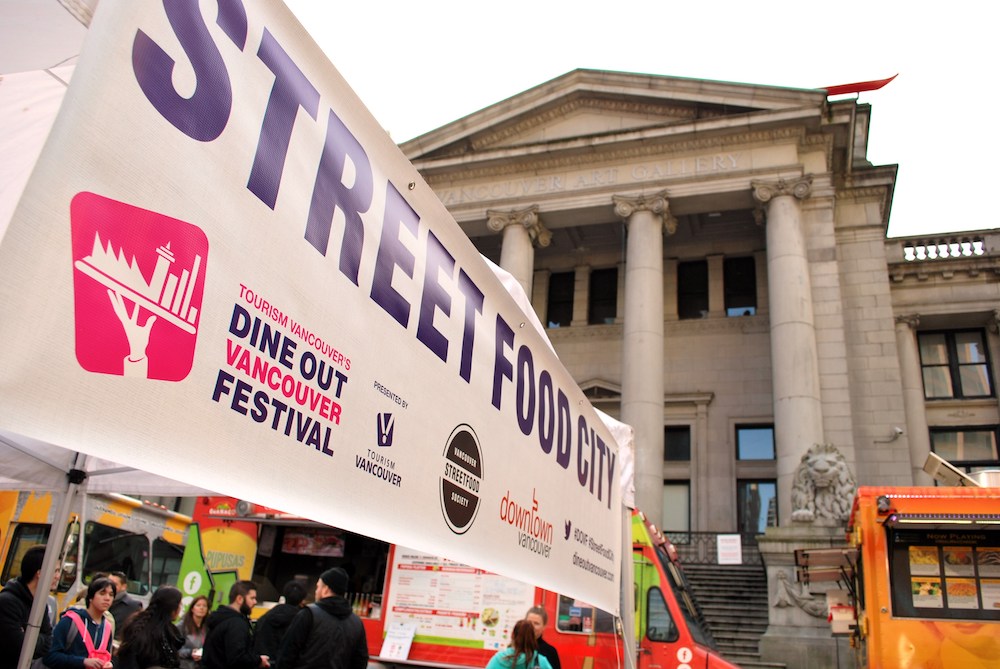 The street food fest that locals have been eagerly anticipating is soon to make a mouth-watering return!
Dine Out Vancouver Festival's Street Food City will once again welcome thousands to šxʷƛ̓ənəq Xwtl'e7énk Square on the north side of the Vancouver Art Gallery to sample a collection of food trucks and carts in one convenient location. The 11th edition of this beloved culinary tradition takes place Saturday, January 21 to Sunday, January 29 – this year with extended hours and an expanded vendor lineup.
This year's Street Food City boasts 17 participating food trucks dishing up an array of cuisines including: Filipino eats; Sicilian-style fried risotto balls; plant-based Mediterranean comfort food; traditional fish & chips; gourmet mac n' cheese, and more. The trucks will rotate throughout the festival, so you'll want to check @streetfoodvancouver daily to see which trucks are on the plaza.
Tents provided by sponsor EVO Car Share will ensure that festival-goers can embrace the rain while fueling up, and local radio stations will be onsite (January 21 and 29) to add to the lively beat.
Destination Vancouver, StreetFood Vancouver Society, Evo Car Share and Downtown Van are proud to present this informal branch of Dine Out that will liven the downtown core in a vibrant and spacious outdoor setting. What's more, The Lantern City will feature a display of lanterns in front of the Vancouver Art Gallery steps concurrently with Street Food City, which is sure to take the ambiance up a notch. Presented by LunarFest, the lantern installation will feature artists from the diverse communities of Vancouver. Celebrate the Year of the Rabbit through arts and culture; learn more about this year's LunarFest activities on lunarfestvancouver.ca.
"We are delighted to be celebrating the return of the Street Food City, and are so grateful for the community support that has allowed this culinary tradition to live on and evolve through the years," says Lucas Pavan, Dine Out Vancouver Festival Manager, Destination Vancouver. "Destination Vancouver, and the participating food truck operators, look forward to welcoming guests to experience a multitude of delicious options from both new and familiar food carts. Dine Out events are a great way to indulge in the city's dynamic food scene."
Street Food City 2023 welcomes the following food trucks and carts:
Cazba, Chickpea, Disco Cheetah, El Cartel, Green Coast Coffee, Indish, Mama's Fish & Chips, Melt City, Mom's Grilled Cheese, Mr. Arancino, Reel Mac & Cheese, Shameless Buns, Slavic Rolls, Super Thai, Taste Malaysia, Tornado Potato, Via Tevere Pizzeria
Street Food City – Vancouver Art Gallery, West Georgia Street (between Hornby and Howe Streets)