Tri-City youth now able to connect with anti-bullying resources and help via 2TALK (28255)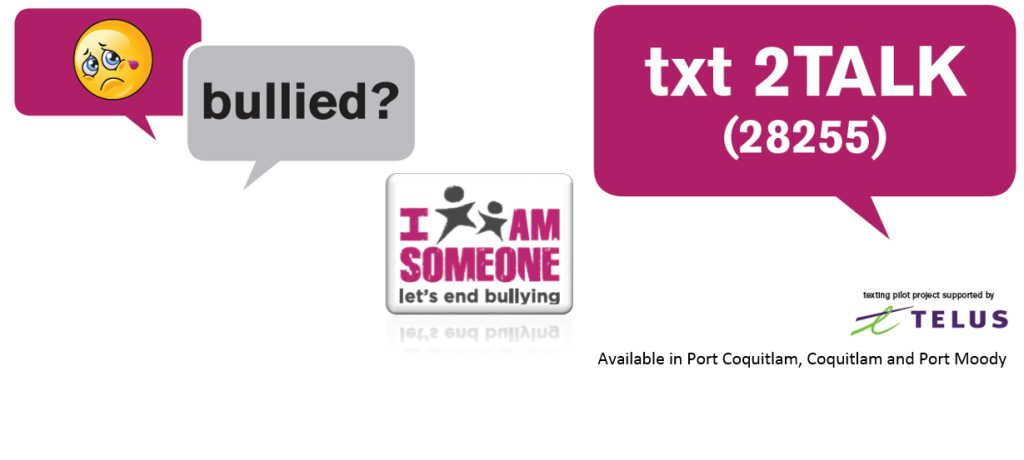 Youth in the Tri-City area will be the first in Canada to be able to connect with anti-bullying and harassment resources by the communication method they know best: texting.
I AM SOMEONE Ending Bullying Society has launched a texting platform pilot targeting secondary school students in the Tri-Cities. The innovative texting platform, accessed by keying 2TALK (28255) from any mobile phone, allows youth dealing with bullying and other issues such as gangs, sexual exploitation, date violence or abuse to connect with local community support services.
"This has been a long overdue service that we need to provide to our youth, and it is our hope that the pilot will be so overwhelmingly successful that we can take it to every city across the country," said Gary Mauris, President of the I AM SOMEONE Ending Bullying Society, and President and co-founder of Dominion Lending Centres. "There are a lot of people and organizations in the community that support youth being bullied, but there seems to be a disconnect between that support and the youth that need help. 2TALK will try to bridge that connection and give youth the support they need, in a way that is easy and confidential."
2TALK will initially service Tri-City secondary school students attending both public and private schools within School District 43. Following the four-month pilot, the service will be evaluated and if successful could be expanded into neighbouring communities.
"We could not be more thrilled that the pilot has launched, and our idea has completely come to fruition now. To know that we are connecting our youth RIGHT NOW with the support they need via text message is nothing short of amazing, and we believe that this is going to play a major role in providing more support to our community by identifying potential gaps in services that aren't yet available," said Greg Moore, Vice-President of the I AM SOMEONE Ending Bullying Society and Mayor of Port Coquitlam.
The texting platform is operated by bc211 and the initial pilot has been funded by TELUS.
The pilot phase will operate Wednesday through Sunday from 3:30pm to 11:00pm. Outside operating hours, youth will receive an automated text message stating the hours of operations and to call 211 if the person needs immediate assistance. Texts will be responded to once the service reopens.
Coquitlam Centre is a proud flagship supporter of this tremendous campaign and on Saturday, October 18th, will be kicking off 'The Ultimate Online Auction'. This is a brand new fundraising initiative which will see all of the proceeds go to to support the I AM SOMEONE Ending Bullying Society and their Help Text Messaging Platform.
http://coquitlamcentre.com/events/Ultimate-Online-Auction#sthash.837HQ0Ti.dpuf