Contest! Real Canadian Superstore Moon Festival Recipes
For the upcoming Moon Festival (also known as the Mid-Autumn Festival), Real Canadian Superstore has teamed up with Stephanie Yuen: she is widely recognized as an expert and authoritative voice on Chinese cultural celebrations especially with the in-depth insights into the traditions, cultural significance, food and recipes of the festivals. She is a Vancouver-based food writer, and Chinese cuisine cookbook author (East Meets West). She has created flavourful recipes with authentic ingredients available at local Real Canadian Superstore to celebrate the Moon Festival:
Wok-fried Noodles with Chicken and Garden Vegetables
Serves 4
3 pc T&T ® Dried Shiitake mushrooms
300g T&T® Fine Dry Noodles (1.8kg box package)
200g Chicken breast, julienned
3 Tbsp cooking oil
2 Tbsp chopped shallot
100g Julienned jicama
50g Julienned celery
1⁄2 red or orange pepper; julienned
1⁄2 tsp sea salt
2 tsp T&T® light soy sauce
2 tsp Chili bean sauce
1 tsp sesame oil
1 tsp sugar
1/ Rinse mushroom and soak in 1 cup of hot water for 30 minutes. Remove caps and julienne mushrooms. Set mushroom liquid aside.
2/ Bring 6 cups of water in a medium pot to a boil on high heat. Follow cooking instructions on box to cook the noodle.
3/ In a bowl, mix chicken with 1 tsp soy sauce, 1⁄2 tsp sesame oil and 1⁄2 tsp sugar.
4/ Place wok on high heat, add 1 Tbsp cooking oil, add shallot and brown for 15 seconds. Add remaining oil and chicken, stir and cook for 1 minute. Add noodles and remaining seasoning, mix well. Add 3 Tbsp of mushroom liquid. Stir, cover and cook for another minute. Add jicama, celery and pepper, stir and cook for 30 seconds. Enjoy!
Turkey, Taro and Shiitake Stew
Serves 4 on rice
300g turkey breast, cut into 1⁄2" dices*
2 Tbsp cooking oil
1 Tbsp oyster sauce
6 pcs T&T® dry shiitake mushrooms
200g taro meat, quarter first and cut into thick slices**
1 tsp chopped ginger
1 tsp dark rice vinegar
1 tsp cooking wine
1⁄2 tsp sea salt
1 tsp sugar
1⁄4 cup coarsely chopped cilantro (optional)
1/ Marinate turkey with 1 tsp cooking oil and 1 tsp oyster sauce for about 15 minutes.
2/ Rinse mushrooms and soak in 11⁄2 cup of hot water for 30 minutes. Remove caps and quarter mushrooms. Set mushroom liquid aside.
3/ Heat remaining oil in wok on high heat, add ginger, brown for 10 seconds.
4/ Add turkey, stir and cook for 1 minute. Add mushrooms and taro. Stir well.
5/ Add remaining ingredients, mix well. Stir in mushroom liquid, bring to a boil. Cover and cook on medium for 12 to 15 minutes or until 20% of liquid remains.
6/ Add cilantro and serve with rice.
*Can be replaced by pork or beef tenderloin.
** Taro skin contains certain enzyme which causes itchiness. Wear kitchen gloves when peeling skin off taro to avoid getting itchy. Once skin is removed, handle the meat normally.
Mid-Autumn Dessert Soup with Taro, Barley and Tapioca
Serves 4 – 6
1⁄4 cup tapioca
1⁄4 cup barley
6 cups water
200g Taro, cut into 1⁄2" dices
1 can T&T® coconut milk (398 ml)
80g to 100g rock sugar (or palm sugar)
1/ Rinse tapioca and barley well and soak in 2 cups of water for 20 minutes.
2/ In a medium saucepan, add taro. Pour in the 2 cups of tapioca, barley and water. Bring to a boil on high, covered.
3/ Remove cover and reduce to medium low heat, cook for 15 minutes.
4/ Empty coconut milk into saucepan, stir well. Add sugar. Bring to a boil and cook for 3 to 5 minutes or until sugar is completely dissolved.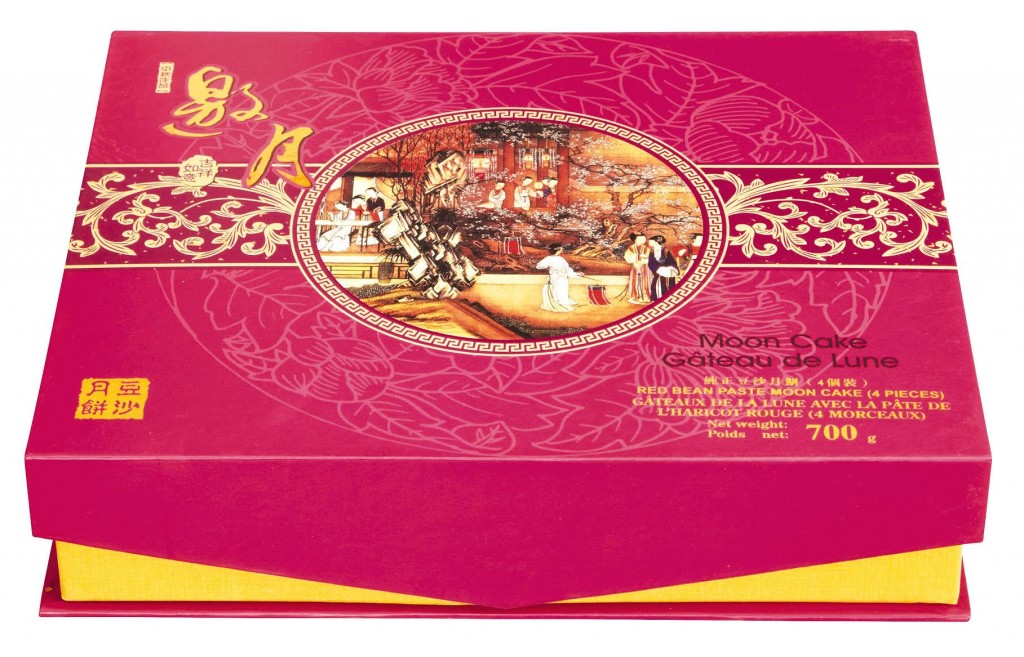 It is increasingly becoming easier for Vancouverites and BC residents to discover the flavours of new cultures: for example, Real Canadian Superstore now has available a wide selection of Asian fresh produce and T&T brand products, including the important Moon Cakes, that make hosting a Mid-Autumn Festival dinner at home accessible to everyone of all cultures. There are four varieties of moon cakes available at Real Canadian Superstore, and they come in pretty colourful boxes found in the bakery section of stores (prices range from $11.99 to $16.99 depending on the variety and single vs. double yolk).
Contest!
We have partnered up with Real Canadian Superstore to give away a $50 gift card to one lucky winner. You can use the gift card to purchase the moon cakes and ingredients to make the recipes for Mid Autumn Festival.