Please! Beverage Co. Opening a Cocktail Tap House in Mount Pleasant This June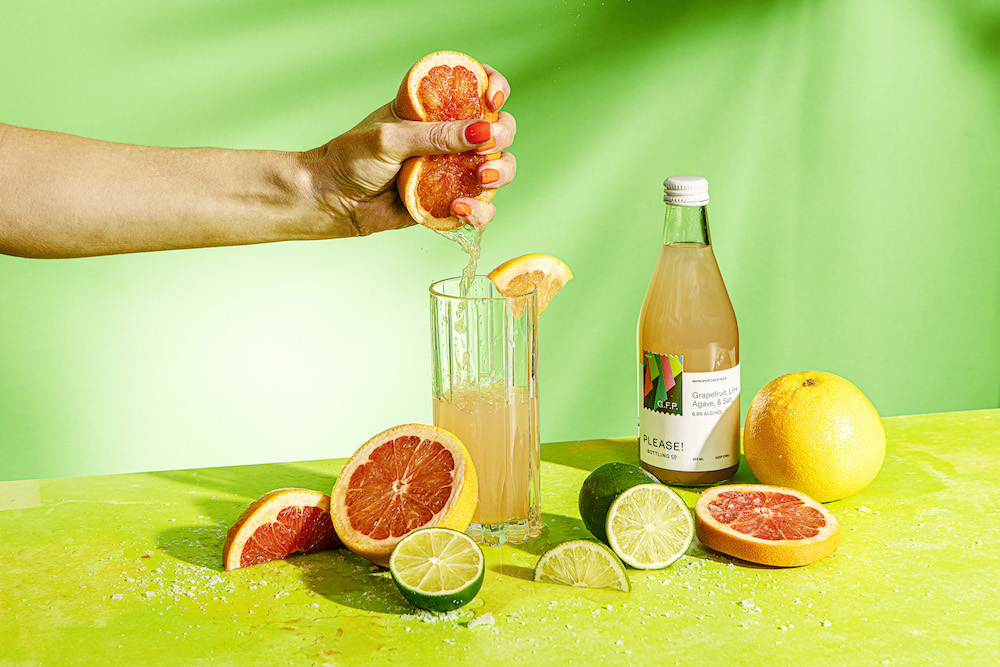 Please! Beverage Co., purveyors of refreshing bottled cocktails made from fresh-squeezed mixers and housemade tinctures, will open a Tasting House in Mount Pleasant this summer, expanding on their current bottled cocktail retail offerings. The artful, plant-filled space will be housed in a former auto repair shop on West 5th between Columbia and Alberta at 222 W 5th Avenue. The Tasting House will serve a variety of Please! premium crafted small-batch concoctions as well as an all-new selection of infused botanic spirits, and delicious small bites from Jamjar.
"We are so excited to expand the Please! experience with the opening of our Mount Pleasant Tasting House this summer," said Noel Steen, Founder at Please! Beverage Co. "We've received such positive feedback from the community and retailers for our proper bottled cocktails, and we can't wait to welcome everyone into the world of Please! to enjoy a variety of our fresh cocktails on tap at their leisure."
The front of house taproom will be supported by a back of house, designated production facility that will allow Please! to continue to push the limits of what an RTD production can be, both for consumers, and for the community. Offering 67 seats in the main lounge, Table Architecture Collective has designed a comfortable and inviting space for guests to taste innovative and exploratory concoctions, as well as a full retail section for people to purchase and take Please! to go. A sizable mural titled Le Gardin, by Vancouver artist Mega McGrath — who has previously collaborated with Nike, Arc'teryx, and Reigning Champ — will adorn almost the entire east wall of the space, creating a vibrant floral backdrop. Further accentuating the tasting house will be a variety of plants by Westcoast Jungle. The north side of the lounge section will also feature a floor to ceiling glass garage door, a nod to the site's former tenant, which will be opened up on warm summer days.
Cocktail lovers will be very pleased indeed, with 2 main menu boards offering eight proper cocktails on tap ranging from Please! OG cocktails that first launched in 2022 as well as four all-new beverages. Fans of Please! will recognize flavours like Mango Sticky Rice with its mango, pandan, coconut and rice; Rhubarb Fizz featuring British rhubarb and custard candy; Green Tea Fizz accented with Osmanthus flowers, lemon, and mint; and the classic Grapefruit Paloma, a tequila forward concoction bursting with bright flavours of grapefruit and lime. New to the Please! family are four fresh creations by Product Development head Stephen Tufts, including the Garden Social, a refreshing gin-based hard iced tea; vodka forward Raspberry Smash; Full Moon Party, a Please! take on an energy drink; and Strawberry Smash, a fresh and fruity cocktail with green and black pepper for a little extra kick.
In addition to delicious cocktails on tap, Please! will also launch an all new botanic spirits menu, available at the Tasting House only, produced by soaking real, whole, natural ingredients in vodka. Guests will have the opportunity to try infused vodka featuring mango, strawberry, Osmanthus flower, coconut pandan, four citrus, and raspberry, all served with soda and ice, on the rocks, or neat.
In addition to featured cocktails and infused spirits the Please! Tasting House will also feature a menu collaboration with modern Middle Eastern concept, Jamjar. Details to come, but guests can expect a selection of dips, sides and snacks all well suited for enjoying with fresh, plentiful cocktails. On the retail side, all Please! Proper Cocktails will be available in bottles for purchase on site. There will also be a small takeaway section selling crackers and canned preserves (summer picnic anyone?), fresh flowers, and artful greeting cards. A selection of hats, totes, and boxy, oversized tees in collaboration with Brunette the Label and featuring local artists' work will also be available.
Please! Tasting House is slated to open in early June. Located at 222 West 5th, the Please! Tasting House will be open seven days a week from 11am to 11pm.