Contest! SamulNori with Kim Duk Soo – Saturday, March 15, 2014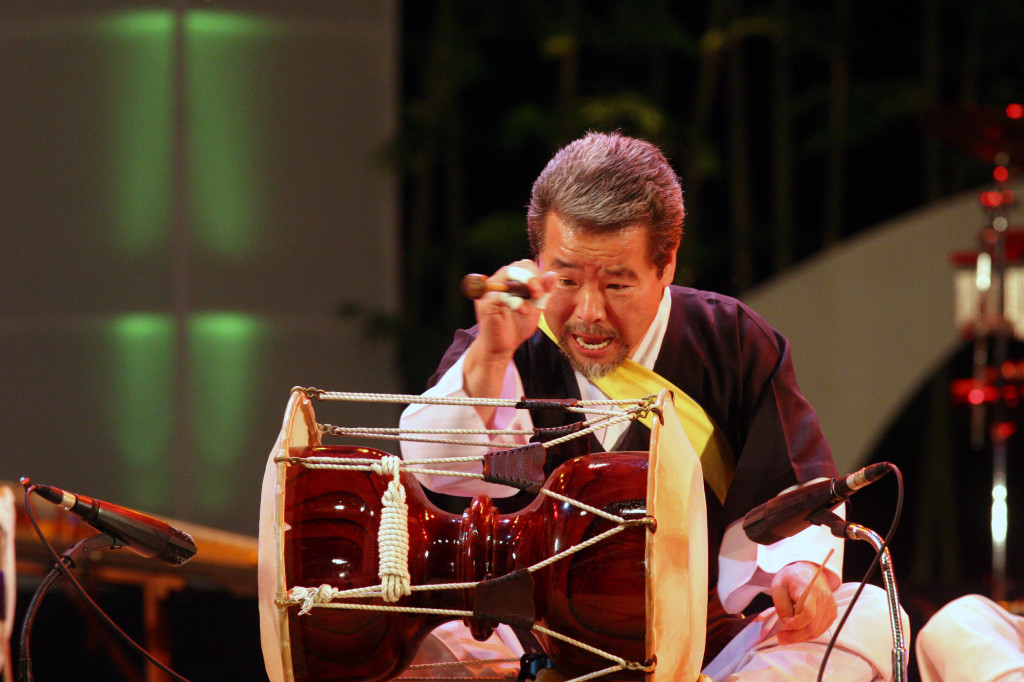 The Chan Centre for the Performing Arts at the University of British Columbia (UBC) presents master Korean percussion ensemble, SamulNori with Kim Duk Soo, Saturday, March 15, 2014 at 8pm in the Chan Shun Concert Hall. This exceptional, kinetic troupe of drummers and dancers make their Chan Centre debut with an evening of driving, syncopated sound and animated theatricality.
"After experiencing an enchanting trip to Seoul two years ago, I knew this compelling showcase of Korean culture would be a perfect fit for the Chan Centre," said Joyce Hinton, Co-Managing Director of the Chan Centre. "It is especially appropriate in light of the fact that UBC Ethnomusicology Professor Dr. Nathan Hesselink has recently published a book on SamulNori. The musicians are committed to providing educational opportunities about Korean music in every community they visit, which dovetails perfectly with our role as an arts presenter in an academic setting."
In 1978, the four original members of SamulNori set out to perform and preserve traditional itinerant Korean music and dance. This important cultural treasure is rooted in nongak or farmers' band music – comprising music, acrobatics, folk dance, and rituals that were performed in rice farming villages to ensure and celebrate favourable harvests – and ceremonial music, with shared influences from folk and religious music known as binari.
The Korean words samul and nori mean "four things" and "to play." The four percussion instruments featured in the ensemble are each associated with an element in nature – k'kwaenggwari (small gong, representing lighting), ching (large gong, representing wind), changgo (hourglass shaped drum, representing rain) and buk (barrel drum, representing clouds).
Under the direction of highly accomplished changgo player and leader, Kim Duk Soo, SamulNori is modernizing this distinctive music with intricately nuanced rhythms uniquely their own. The ensemble is renowned for sparking a renaissance in Korea's music scene and garnering worldwide acclaim through the release of 15 recordings and extensive international touring to countries such as Germany, China, Australia, Brazil, the United States, and more – including performances in festivals such as the Hong Kong Arts Festival, Peter Gabriel's WOMAD Festival, and the World Drum Festival.
Today, the company has grown to include upwards of thirty artists and students, performing physically demanding, emotionally stirring, and visually spectacular music.
SamulNori with Kim Duk Soo
Date: Saturday March 15, 2014 at 8pm
Ticket prices: From $36
Address: Chan Centre for the Performing Arts
University of British Columbia
6265 Crescent Road
Vancouver, BC V6T 1Z1
Box Office: Ticketmaster – by phone 1.855.985.(ARTS) 2787, or
www.ticketmaster.ca.
In person at the Chan Centre ticket office, 6265 Crescent
Road, UBC Info: 604-822-2697, or www.chancentre.com.
The Chan Centre Ticket Office is open Tue-Sat, 12pm-5pm;
Performance Days, 12pm-intermission; Sun-Mon performance
days: 2.5 hours before event start until intermission. Closed on
statutory holidays.
Website: www.chancentre.com | www.ticketmaster.ca
Contest!
We're giving away 2 tickets to SamulNori with Kim Duk Soo on Saturday, March 15 at 8pm in the Chan Shun Concert Hall.
Here's how you can enter to win:
1. Like us on Facebook and Follow us on Twitter and Google + (3 entries)
2. Leave a comment on this post (1 entry)
3. Post the following on Twitter (1 entry)
Win 2 tickets to SamulNori with Kim Duk Soo on March 15 at @ChanCentre‎ via @HelloVancity RT & Follow to enter http://ow.ly/tPoz1
We will draw the winner at random on Monday, March 10, 2014.