Bosa Launches Uptown in West Coquitlam – Metro's Next Rapid Transit Community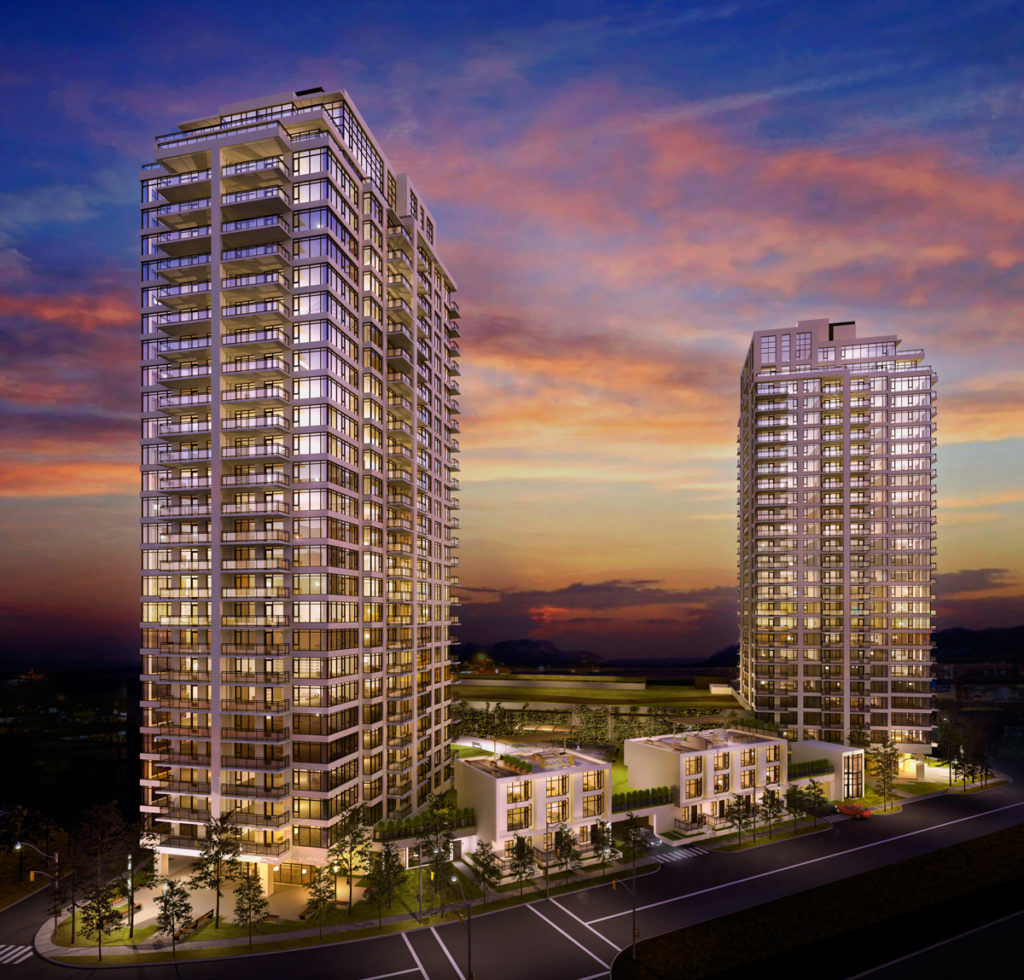 Bosa Properties' newest mixed-use development, Uptown, is set to transform the community of West Coquitlam— soon to be home to the Evergreen Line— into one of Metro Vancouver's most sought-after postal codes.
The award-winning developer has recently begun site work for its large-scale condominium project strategically situated at 581 Clarke Road, near Burquitlam Park. The project is on the border of Burnaby and Coquitlam, and is steps away from the future Evergreen Line. With Uptown, Bosa is the first builder to bring two concrete high-rise luxury towers, and 451 new homes, to West Coquitlam. Previews have now started and Bosa Properties expects to commence full-scale construction this summer.
Uptown forms the foundation of Bosa's vision of a revitalized West Coquitlam, also known as Burquitlam, becoming the city's premier neighbourhood.
"We identified West Coquitlam as a prime location for an urban transformation as it's soon to become Metro Vancouver's next rapid transit community," says Daryl Simpson, Senior Vice President for Bosa Properties. "Uptown will be only minutes to both Simon Fraser University and Lougheed Town Centre and steps away from the Evergreen Line."
Bosa's Uptown is one of the first new developments to go up in the Burquitlam rapid transit urban village, which the City of Coquitlam envisions will become a revitalized pedestrian-friendly and transit-oriented community. Offering the feel of a bustling 'high street,' streets will be lined with housing as well as offices, retail shops, cafés, restaurants and outdoor patio space. Easily accessible by rapid transit, these neighbourhood amenities will also be conveniently located near Burquitlam Park and a future community recreation centre.
"The City of Coquitlam is excited to see our long-term vision for the Burquitlam/Lougheed neighbourhood take shape as Bosa Properties starts construction on Uptown," says Coquitlam Mayor Richard Stewart. "Complemented by the convenience of rapid transit, diverse shops and eateries, and nearby recreation amenities, this newly revitalized area will be a vibrant and complete urban community where local residents can truly live, work and play. With all it has to offer, I anticipate this will be a highly desirable neighbourhood for businesses and residents of all ages."
Designed by award-winning NSDA Architects, the Uptown development will include a brand new grocer with barista bar at the base of the first tower. Once completed, the development will consist of Tower One (with 216 homes) and Tower Two (with 235 homes), ranging from one bedroom, one bedroom and den, two bedroom, two bedroom and den, and three bedroom homes on the sub-penthouse and penthouse levels. Selected one bedrooms will also feature BosaSPACE, a world-first interior architecture design that lets homeowners transform their space with movable furniture built into the suite.
With chic yet timeless style and attention to detail, the elegant residences will vary in size from 549 to 828 square feet, and 1025 to 1716 square feet for suites on the SPH/PH floors. Owners will also have access to an expansive wellness pavilion that includes a yoga studio, fitness facilities, sauna, infrared steam room and changing rooms. Each tower will house its own private entertainment lounge.
Construction will start this summer and is slated for completion Winter 2016. Prices for Phase One (Tower One) start from $258,900 for a one bedroom home. The Uptown Sales Centre is located at 581 Clarke Road, Coquitlam and is now previewing. Sales centre hours are 12 p.m. to 5 p.m. daily. Map to presentation centre site: http://goo.gl/maps/abKfy
For more information or to register, call 604-939-2677, email [email protected] or visit www.bosaproperties.com/uptown